What Does LED Stand For?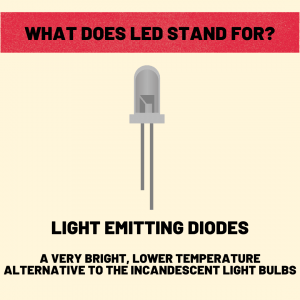 We see it everywhere we go, but what does LED stand for?
Light Emitting Diodes, or LED as most people refer to it, is a very bright, lower temperature alternative to the incandescent light bulbs that have been around since the start of the 20th century.
Just as Thomas Edison was instructing the world about electricity and his new light bulb during that time, our lighting preferences seem to be changing to a more LED-focused product going forward in the 21st century.
What Are LEDs Used For?
LED lighting can be used in any application where there is an incandescent light bulb.
The fact that these light sources are so much smaller than traditional light bulbs opens up more applications where LED lighting can be used.
The Light Emitting Diode is a member of the electronic component family, like transistors, capacitors, resistors, inductors, relays, and transformers that can all be included in an integrated circuit and processed onto a tiny piece of silicon to power computers, watches, radios, and your all-important cell phone.
The applications for LED lighting are as limitless as the applications for integrated circuits are in our daily lives.
What Are LEDs Commonly Used For?
As LED technology continues along the design and innovation curve, there are more uses for LED lighting being applied every day.
Some more common uses include"
Backlighting of tablets
Flat TV screens
Indicators of many devices
LED technology is now being widely used in our infrastructure to illuminate city streets and operate the familiar red, green, and yellow traffic lights.
Christmas lighting has seen a major upgrade to LED lighting in the past few years, putting to rest the old tradition of finding the burned-out bulb in those strings of lights we put on the family tree!
The automotive industry is moving to LED technology for brighter and safer vehicle illumination and new computerized displays in those vehicles.
What Are The Advantages of LEDs?
LED lighting is a prime example of using technology to better our lives.
There are many advantages to LED lighting, such as:
They consume less energy to function.
They can last up to 10 times longer than traditional incandescent bulbs.
More choices of designs and colors.
No filaments to break at the slightest nudge.
LED lighting has a much longer shelf life and can be used in many other ways over incandescent bulbs.
What Are The Disadvantages of LEDs?
As perfect as LED lighting sounds, there are some disadvantages such as:
LEDs are more expensive.
Leds are less effective across a wide area.
Bad performance at temperatures over 65 degrees F.
Since LEDs are a by-product of integrated circuits, every possible temperature reduction solution is implemented when using LEDs as a single lighting source.
From ventilated circuitry to installed heat sinks, every attempt at keeping LEDs cool only enhances their ability to be head and shoulders above incandescent lighting.
Why Are LED Lights Better?
The good outweighs the bad with LED lighting. Here are 5 reasons that the LED is a better lighting choice.
Endurance. An LED can last up to 50,000 hours as opposed to 1500 for incandescent bulbs.
Energy efficient. LED lighting is 65 to 70% more efficient to operate than incandescent bulbs.
Better quality of light. LEDs are bright without being too bright as their contrast levels are well balanced.
Greener lighting choice. LEDs are made from recycled material, producing an almost zero carbon footprint.
A huge variety of lighting choices. From colors to sizes, LEDs provide more choices and more applications.
The LED is the future of lighting.
Should I Replace My Light Bulbs With LED?
In a study by the University of Michigan, there were two answers to this question.
"Should I replace my lightbulbs with LEDs?'
If you are looking to reduce the amount of coal-fired pollution from power-producing facilities,  then switch to LEDs immediately.
If you want to reduce your energy costs, you might want to wait until newer technology is available to further reduce the amount of energy LEDs use.
Are LEDs Brighter Than Incandescent?
In a word, yes. The Light Emitting Diode produces a far brighter lighting product that is cheaper to operate, available for many applications, and is better for the health and well-being of man and the planet he lives on!
A brighter light that is cheaper to operate? LEDs are a win-win!
For more electrical insight, be sure to check AC Electric!