GFCI Outlet Installation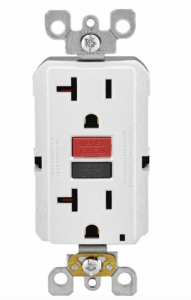 Are you searching for an electrician that does GFCI outlet installation?  AC Electric is a local electrician with over 20 years of professional residential and commercial electrical experience.  We owe our success to our customers and our award winning customer service.  We value each individual home or business owner and treat each case according to the work that needs completed.
What is a GFCI Outlet?
A GFCI, short for Ground Fault Circuit Interrupter, is a device used to detect imbalances in electrical currents and shuts off power to that outlet to prevent damages and to help reduce the risk of electrical shock.  The main purpose of the GFCI outlet is to prevent electrical damage and shock when nearby water enters the outlet through its holes.  If the device senses water splashing against or into the outlet, the GFCI will automatically shut down.  It will not turn back on until the reset button is pressed in.  However, be sure that the outlet is safe and water free before pressing the reset button!
Do I Need and Electrician to Install a GFCI Outlet?
Simply put, yes.  Unless you have extensive experience working with electrical wiring, we highly recommend you call a local electrician to help you install your GFCI outlet.  Working with electricity comes with very high risks.  If you don't have the proper knowledge, working with live electricity can lead to shock and sometimes something far more serious!
Do All Outlets In the Kitchen Need a GFCI Outlet?
The basic rule of thumb to follow is to install a GFCI within 6 feet of all sinks.  We also recommend them near major appliances such as a dishwasher or refrigerator.  Remember, the most important thing to think about at the end of the day is your safety and those in your home.  You can never go wrong with having a GFCI outlet.
Can You Install a GFCI Outlet Anywhere?
You can install GFCI outlets anywhere you desire.  If there's currently an outlet available without a GFCI, an electrician can safely install a GFCI in its place.  It's also important to stay up to code in your home.  Depending on where you live, your local electrician can help you stay up to date with the current code.
Where Should GFCI Outlets Be Installed?
Bathrooms
Basement
Kitchen
Laundry Room
Basement
Outside
Are you ready to have one of our certified professional electricians help you with your GFCI outlets?  Give AC Electric a call today to schedule your appointment!