Garage Lighting Installation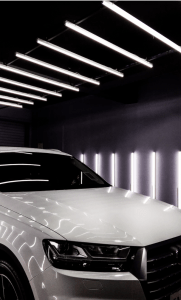 Are you searching for a local electrician that specializes in garage lighting installation?  AC Electric has been installing garage lighting since 1999 to the great residents of Northeast Ohio!  Consistent garage lighting is extremely important to our daily lives.  The last thing we desire is to drive home late at night with our kids or a trunk load of groceries, then our inside garage lights go out and we can't see what you're are doing.  Believe us when we say, we've heard many stories like this in the past including some dangerous situations!
When you choose AC Electric, you are backed by quality workmanship from certified electricians.  Our electricians are known for their friendly personalities, extreme ownership of their jobs, many years of experience, and quality of work.  We ask all potential customers to review our Google reviews and our Better Business Bureau ratings to see that we offer some of the best work in Northeast Ohio!
Garage Motion Detection Lighting
We've all been there before.  Our hands are full with the garbage and we walk into the garage and the door closes behind us leaving us with our hands full and in the dark.  Our spidey-senses help us navigate our way through the dark with our hands full while only allowing a couple of bumps or bruises on our brief journey.  After we drop the garbage in the garbage can we maneuver our way back through the dark forgetting our experience we just had.
What if we can help solve your "hands-tied" issues with the dark?
Allow AC Electric to run regulated wiring through your garage to hook up a motion detector!  Gone will be the days of walking in the dark.  This is a relatively simple process we offer all of our customers.  AC Electric's expert technicians can also run motion detection lights outside your garage, doors, and anywhere on the outside you want to light up at night.
Garage Outlet Installation
Garage outlets come in handy for us all.  Whether we are trying to vacuum out the car or charging up our electronics, we can never have enough outlets in our garages.  AC Electric specializes in running GFCI outlets in your garage to offer you reliable protection no matter the weather.  Call us today to get your job in the books!
Replace Garage Lights with LED
A common theme we have been encountering is replacing older lights with energy efficient LED lights.  LED lights can have a cleaner and more modern look when you add it to your garage.  Not only will you save on electricity cost and usage, you will also achieve that unique and cool design we sometimes see in those fancy homes on your favorite movies.
Give AC Electric a call today to schedule your garage lighting appointment!