#1 Electrician in Cleveland, Ohio!
Cleveland is where it all started! From Downtown at the Chesterfield Apartments to cottages in Ohio City, Cleveland has been our inspiration. With our A+ BBB Rating and Certified Electricians, we believe we are the go-to company if you are seraching for an electrician in Cleveland, Ohio.  With its beautiful skyline along the lake, we have provided Cleveland electrical services such as installing landscape lights to accent homes; assisted property managers on energy efficient lighting and controls; and have installed 100's of electrical panels on the East and West sides of Cleveland.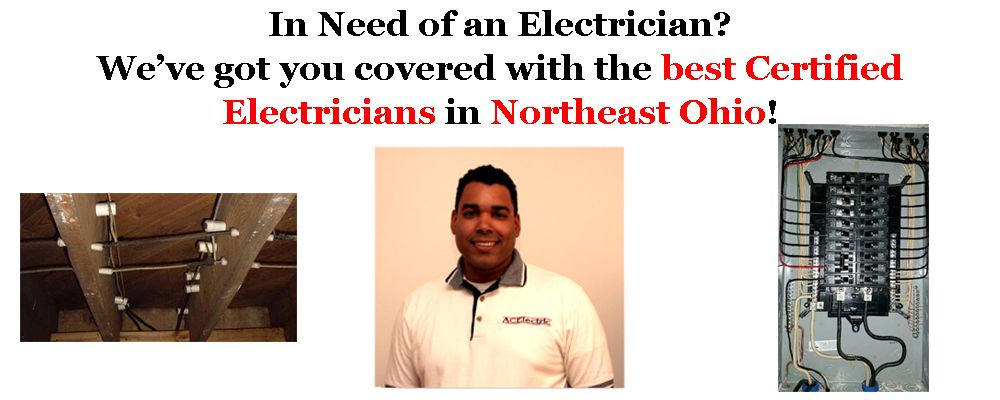 Cleveland Electrical Contractors
One thing we are proud of is the ability to produce some of the hardest working blue collar workers in the country. Northeast Ohio has boasted some of the best and most proud laborers. We take pride in our hard work and ability to get the job done right. How do you know you're getting the best electricians in Cleveland coming to your house? The answer can be solved very simply – ask if your electrician is certified and insured. After that you need to do your homework. Don't worry, this homework can be done in less than a minute and will help you make the best decision for hiring the right electrician.
Look at your electricians overall review score on Google. As always, you'll have your negative reviews that every business can't get around. It's part of doing business! Look at the responses to those negative reviews and then you can get a good understanding if your potential list of electricians are worth calling.
Licensed Electrician Cleveland
Have you thought about calling a local licensed electrician to change your electrical panel from fuses to breakers? How about rewiring your whole house from knob & tube wiring to Romex®? Consequently, you want an answer for small requests but are afraid of "wasting your time"? These and any other questions you may have are what we're here for; and, we're just a phone call away! We are a Better Business Bureau accredited business, with an A+ Rating. We are always eager to hear from you no matter what the electrical issue is—no job is too small! Give us a call now if you have any electrical issues you need resolved; good chance there is one of AC Electric's highly trained technicians providing Cleveland electrical services right now!