Ceiling Fan Installation Services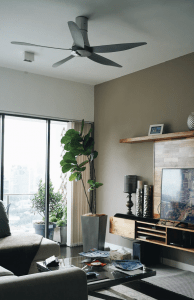 Are you searching for a local electrician that performs ceiling fan installations? AC Electric is here to provide you top rated service for all of your electrical services needs!  Established in 1999, AC Electric has been servicing Northeast Ohio residents and commercial businesses faithfully.  The owner of AC Electric, Asmint Cruz, founded the company based on providing high-quality service with a friendly smile.  He realized that building relationships with our customers was both rewarding personally as well as his customers providing him with referrals and repeat business.  This is why AC Electric has an A+ Rated BBB rating and over 170+ Google reviews with an average of 4.8 stars!
Ceiling Fan Replacement
Are you looking for a ceiling fan replacement?  It's important that you contact a local certified electrician when it comes to replacing your ceiling fan.  Since there's live electric wire involved, it's important that you leave this one to the professionals!
While the style of ceiling fan is a choice you will need to make, we wanted to provide you with some types of ceiling fans that you may be interested in.
Types of Ceiling Fans
Standard Ceiling Fan – This type of ceiling fan can be seen in most modern day homes.  This would typically be the ceiling fans you see at your local home improvement stores.  These fans can be mounted on both flat and angled ceilings.  They are very versatile and usually your most cost effective option.
Energy Star Ceiling Fans – This type of ceiling fan is made with energy efficiency in mind.  They can be both standard and low profile styled fans.  In order for an energy star ceiling fan to have the energy star label, it must use 20-30% lower energy than what the federal numbers are listed as.
Low Profile Ceiling Fans – These type of ceiling fans are made for homes with less than an eight foot ceiling.  They are also sometimes called, "hugger fans".  Just as the name indicates, these are fans that come very close to the ceiling.
Dual Motor Ceiling Fans – If you picture the old style fans that you can see in movies dating back in the early 1900's, this is the look that most dual ceiling fans have.  There's usually two of these fans and they are pointed in different directions to disburse the breeze in different directions.  These are aesthetically pleasing to many home owners, however, they usually come with a premium price for high quality fans.
Remote Controlled Ceiling Fans – If you're looking for ease of use and you don't want to get up to change your ceiling fans, then a remote controlled ceiling fan is recommended.  The prices were noticeably higher than standard ceiling fans until recently.  With technology taking over all household appliances, these fans can come at reasonable prices.  We recommend these for individuals that may have difficulty maneuvering on a daily basis.  However, these are excellent choices for any consumer!
Damp and Wet Ceiling Fans – Damp and wet ceiling fans will have a "UL" rating on them.  These types of fans are specially made with humidity and moisture resistance in mind.  If you are looking for outdoor fans that will last awhile while not warping, this is a must-have for you.
Industrial & Commercial Ceiling Fans – These heavy-duty fans are very large and made to deliver high amounts of air over a large space.  These types of fans can be used continuously without the typical wear that a standard fan would receive with this type of excessive use.
Schedule Your Ceiling Fan Installation
Now that you know you are dealing with one of greater Cleveland's finest electrical company, and you understand the different types of ceiling fans, it's now time to schedule your appointment with one of our amazing electricians.
Give us a call today so we can get you scheduled for your ceiling fan replacement or installation!