Lights Flicker When AC Turns On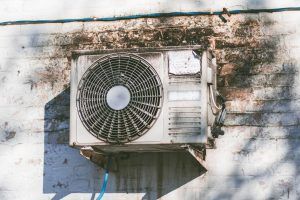 Do your lights flicker when the AC turns on?  This is a very common problem that many home owners face today.  Most of the time this is no cause for concern.  Due to the heavy load on the electrical that is caused by turning a large unit such as an air conditioner, you will notice your lights dim for a split-second while only losing up to 5% of their brightness on average.  After over twenty-years in business as an electrician, AC Electric receives at least two to three calls a week for this specific issue.  Most of the time we ease the concern over the phone, but there are certain issues that do require a certified electrician to analyze.
How do I stop my lights from flickering when I turn on my AC?
When an AC goes to turn on, the AC capacitor gives the compressor motor the necessary power to start.  When the AC capacitor stops working or is losing its power, then your AC will draw power from other sources inside your home or office such as large appliances.  If you experience heavy drawing of power and longer than a split second of light dimming, then it's best to call an electrician.  An electrician can remove and reinstall the AC capacitor and you'll be functioning normal again the same day!  We recommend you do this before the warm season begins.
Should my lights flicker when AC turns on?
Yes, it is completely normal for your lights to flicker when the AC turns on.  For a normal functioning electrical system, you can expect the following to happen unless you have a geothermal unit.
Lights flicker or dim for a split second
Lights dim 3-5%, sometimes more
Geothermal air conditioners do not have as large of a load on the electrical as standard air conditioning units that sit outdoors.  Its energy is drawn from deep within the earth and the unit that controls the AC is typically next to the furnace.  Geothermal requires specialist if this is placing a heavy load on your electrical.
Signs of a Bigger Problem
As mentioned, most of the time you'll experience a 3-5% dimming of your lights when your AC is firing up.  However, if you are experiencing lights almost completely turning off or flickering on and off quickly, then it's usually caused by one of the three main issues and it's time to call your local certified electrician.
Loose or Damaged WiresWith or without your AC turning on, you may notice lights flickering on and off rapidly in your home at times.  This can be caused by your AC or other appliances drawing power such as a refrigerator.  If you notice the quick flickering of lights in your home, it's time to call an electrician to evaluate the problem.
AC Capacitor is broke or weakenedYour AC capacitor is much like that of a car battery.  Your car battery draws and stores power in order to help start your car, light your car, etc.  Much like a weak or broke car battery, when your AC capacitor is weak or broke, the draw that is places against your electrical will cause a massive reduction of lights.  Typically, you'll see a 30 to 50% dimming of your lights.  When you notice this, it's best to have a professional come out and evaluate your AC capacitor.
Overloading of your CircuitsHave you ever noticed a loud buzzing noise when turning your AC on?  This is caused by overloading of your circuits.  Each major appliance needs a dedicated circuit.  When you overload your circuits, you'll start to have your circuit trip.  Perhaps at one point your electrical was set up properly.  Over time as you add or change things in your home, you could have added more than what your circuit was able to handle.
No matter what sign you notice it's best to call a professional electrician to evaluate your problem.  Do your proper research so you can find a reputable electrician that is bonded and insured.  Check our their reviews as well!