Hot Tub Electrical Requirements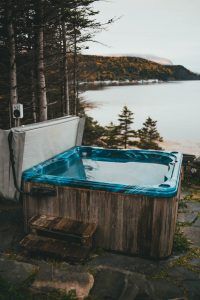 After being in the electric industry for over 25 years, I get this question a lot; what are hot tub electrical requirements?
You probably have at least an understanding that electricity and water do not mix! Ever!
Now, that being said, it is the electrical components of your new hot tub that will be supplying all the things a hot tub is known for.
You can buy hot tubs online, from a pool supply store, or a designated spa outlet, and everyone just assumes that you are going to get a licensed and bonded electrician to come to do the electrical work. A qualified electrician is going to install your tub according to the National Electrical Code (NEC) requirements for your particular hot tub.
Several factors come into play here as the hot tubs will require different breakers and different gauged wires as you go from one manufacturer to another. This is where a licensed electrician will make all the difference in you getting your hot tub up and running!
Running Electrical for a Hot Tub
Every hot tub will come with its specific data plate somewhere around the area your electrical will hook up or possibly on the electric motor of your hot tub.  So what it comes to hot tub electrical requirements, here are some quick tips.
On that data plate, you will find information that a licensed electrician will read and interpret what will be required for a complete electrical installation.
Things like:
Wire size
Breaker amperage requirements
Electric motor data in case you need to replace it years down the road
Proper grounding requirements
Any further electrical information that could be needed
A professional licensed electrician should have no trouble identifying what will be required for your hot tub installation.
What size breaker do I need for a hot tub?
Just as there are different types of hot tubs, there are also different installation requirements. For example, you will need a 40, 50, OR 60 AMP 2-POLE GFCI breaker for a hot tub.  You can also refer to the following wiring diagrams supplied by Master Spa, a leading manufacturer of hot tubs for both wiring a 120-volt and 240 volt outlet.
Again, the information on the electric motor data plate will indicate which size of wire and breaker will be required to get your hot tub doing what it does best!
Hot Tub Installation by Brand
It might be a good idea to check with the manufacturer of your hot tub for any little nuances that may pertain to your particular brand's electrical requirements.
The following brands are considered to be the most widely used brands according to the Master Spas website.
A Final Thought
Your home represents a large investment, and you have parameters in place to protect that investment. The same can be said about your new hot tub. Getting it installed by a licensed electrician is a great way to protect yourself and everyone that is going to be enjoying your new hot tub!
If you are in the Cleveland area and want a licensed electrician to install your hot tub electrical, contact AC Electric today!