Do Smoke Detectors Expire?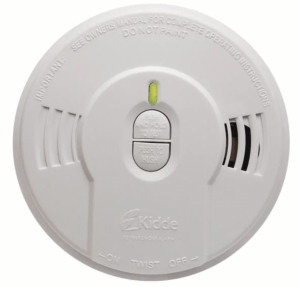 Bread, eggs, yogurt, chicken, bananas, and smoke detectors.  What do all of these have in common?  They all expire after a specified relative period of time!  Do smoke detectors expire after a certain amount of time?  You bet they do!  What happens if your smoke detector expired and its still used in your home?  Does something similar happen to it like a message from Mission Impossible?  Pfft…up in smoke!  Well, obviously it does not but that would be pretty cool.
Once your smoke detector expires it's as useless as a grill without a fire.  And speaking of fire, it will not detect a fire and you are at risk of this life saving device not saving your home and more importantly you!
Typically, the average smoke detector will last for up to 10 years.  If you have an older smoke detector you may want to check it before continuing to read as they were set to expire after an even lesser amount of time.
How do I know if my Smoke Detector is Expired?
There is an expiration date on every smoke detector.  To check your expiration date, simply twist-off the detector from its wall mount.  Turn your smoke detector around and look for an expiration date on the back.  If there is no date listed then it's safe to assume you need to throw it out and reinstall a new smoke detector.  Before installing your new smoke detector make sure to make a mental note of the expiration date on the back.
While it's not always the most accurate test, you can also use the test button on the smoke detector.  To use the test button press and hold on the button until the ear piercing noise starts going off. If you think the noise sounds weak or muffled, it's usually time to replace your smoke detector.
Do You Really Need to Replace Smoke Detectors Every 10 Years?
Yes, you must replace your smoke detector every 10 years.  It's simply not worth the safety of you and your family.  If you have an electrical arc causing a fire or a candle that someone forgot was burning it can easily turn into a fire very quickly.  Every second counts when detecting a fire so make sure to replace your smoke detector every 10 years or the manufacturers suggested date.
Do Hardwired Smoke Detectors Expire?
Many people think that the hardwired smoke detectors don't expire.  That's simply not true.  The mechanical aspect of smoke detectors is what causes the failure in the device.  If you have a hardwired smoke detector you are simply using an alternative source for the power instead of the battery.  Replace all hardwired smoke detectors according to the suggested manufacturers date on the back of the detector.
Do you need to an electrician to replace smoke detectors for you?  If you live in the Northeast Ohio region give AC Electric a call!  We offer these services and more for our beloved NEO community!