Popular Electrical Upgrades for the Fall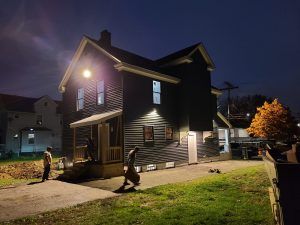 October brings our company a lot of phone calls for popular electrical upgrades for the Fall.  Fall is a magical time of the year.  The air is getting crisp, the clouds are turning blue and grey, and the leaves are turning magnificent colors.  What's better than enjoying a hot coffee or tea while wearing comfy sweats and looking outside at the splendor of orange, red, and yellow leaves.  We really enjoy Fall time at AC Electric if you couldn't tell!
What are the Most Popular Electrical Upgrades in the Fall?
When it comes to autumn, there are calls that we get daily without fail. Below are common electrical upgrades for the Fall that you may want to consider for your home.  Check them out and let us know if you want AC Electric to help you with your electrical needs.
Dedicated Outlets for Christmas
Our customers call us to prepare for the Holiday season every year.  With the electrical load that Christmas lights bring on a house, it's best to ensure you have enough power in your electrical panel for the load.  Electrical panels are a common upgrade for homeowners that love to go all-out for the Holiday season.  Another call we receive is for dedicated outlets outside.  It's very difficult to properly light a house without enough outlets dedicated to turning your home into the perfect scene straight out of a 90's Christmas movie.
Dedicated outlets for Christmas ornaments, especially for the outside.
Ensuring your service is adequate for your electric range; don't just assume because you have a large enough box that you have the right equipment outside (service meter). Get an inspection to ensure it is all proper and grounded.
Dedicated circuit for your furnace if it is not dedicated.
If you are looking for an electrician to provide your home or business with electrical upgrades for the fall, call AC Electric today!