Residential & Commercial Electrician Serving
Broadview Heights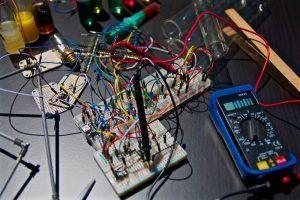 AC Electric is the number one residential and commercial electrical company operating in Broadview Heights today. We've been servicing Northeast Ohio since 1999, and in that time AC Electric continually ranks number one. What makes us the best? AC Electric is the highest-rated electrical contractor in Broadview Heights, with hundreds of exemplary reviews on Google, Yelp, Angie's List, and Facebook. Additionally, because of our excellent reputation in the community and because of our commitment to five-star service, AC Electric has won numerous local awards for our business.
The #1 Residential Electrician Servicing Your Community
Nestled west of the Cuyahoga Valley National Park, Broadview Heights is home to Brecksville–Broadview Heights High School and Seneca Golf Course. Broadview heights, or "the height of the heights," is a city of families, and AC Electric is prepared to service any residence in the area. People trust AC Electrical to take care of their homes. As a certified electrical contractor, AC Electric is prepared to meet your residential electric needs. In fact, we've serviced over 2,000 homes!
Your #1 Choice for Electrical Contractors in Broadview Heights
In addition to residential electrical maintenance and repair, AC Electric is fully equipped to service buildings of all shapes and sizes. In fact, AC Electric has serviced some of the largest commercial properties across Northeast Ohio. For commercial electrical contracting, businesses want the best service in town, and in Broadview Heights, AC Electric is the best. We offer services for new and older buildings, commercial-retail stores, factories, warehouses, and any commercial business with electrical needs. We also study new trends and technologies in order to offer the best, updated features. We can even save your business money with advice for lighting efficiency savings.
Knob and Tube Wiring Services for Broadview Heights
Does your older property have knob and tube wiring? Knob and tube is a system often found in older homes as part of the original installation of the house. Electricians frequently recommend a full replacement for knob and tube wiring. This can be scary news! However, AC Electric been working on homes with knob and tube wiring for over 15 years. We have the knowledge and experience to fairly assess your wiring and make the best recommendation, whether it's repair or replacement. If you have knob & tube wiring in your home, one of our professionals will evaluate your needs and give you an informed, trustworthy opinion.
Why Choose AC Electric?
Choose AC Electric for our exemplary ratings. Choose us for our expertise in the residential and commercial community. Choose the number one electrician in the Broadview Heights area: AC Electric. We've been in business since 1999 servicing all of Northeast Ohio, including Broadview Heights. AC Electric won the Channel 5 News Cleveland Award for #1 Electrician servicing Cleveland, Ohio. We're the Expertise top award winner for Best Electricians in Cleveland 2020. And last, but not least, AC Electric earned the Cleveland Consumer Affairs award for number one Best Electricians in Cleveland, OH 2020. Choose AC Electric for our award-winning service!