Residential & Commercial Electrician Serving Willowick, Ohio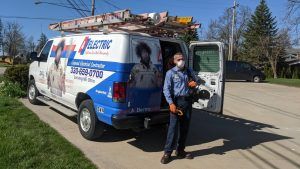 Getting an electrician in Willowick, Ohio, is not a particularly hard task. However, you may have to dive deeper before choosing the best service provider. That's because while there are multiple service providers, getting the best electrical contractor in Willowick could be the difference between a professionally completed project and one just done to finish the task.
Since 1999, AC Electric has been servicing your electrical needs. And with more than two decades of professional and practical experience, AC Electric has proven to be one of the best electricians in Willowick, Ohio.
Over the two decades of operation, AC Electric has won multiple awards. These awards recognize the diligence, hard work, and dedication embodies by every employee. Consequently, this professional mode of operation has set AC Electric levels above any competition in the region.
Your Top Residential Electrician Servicing Willowick
The city of Willowick is one beautifully endowed in both natural and humanmade features. Some of these features have long served the city of Willowick by attracting tourists and migratory residents.
The Willowick Lakefront Lodge boasts an amazing scenery that has served as a tourist attraction point for many years. Here, you can relax as you watch the sun sink into the lake. You can also try fun and interactive actives such as picnics and nature walk.
Jindra Park is another fine relaxation hub that doubles down as an attraction point. Jindra Park is famous for its clean and family-oriented fun. At the park, you can enjoy different sports and games, each with a dedicated pitch. These include a baseball diamond, basketball and tennis courts, a bicycle riding and walking path, and a community swimming pool.
AC Electric meets all the qualifications and certifications required to work as an electrical contractor in Willowick. This means you can get the best residential electricians at your doorstep within a moment's notice.
The Leading Choice For Electrical Contractors in Willowick
Every house and structure is different. This is one of the factors to consider before hiring an electrical contractor. Ideally, you want to get a contractor who not only knows what they are doing but has direct experience dealing with similar structures.
With more than 20 years of operation, AC Electric has the experience and expertise to help fix all your electrical needs. This expertise spreads both in residential and commercial electrical contracting. When you hire AC Electric, you can rest assured all your power needs will be sorted in an efficient, speedy, and professional manner.
Knob and Tube Wiring Services
Some of the residential houses in Ohio were built decades ago. At the time of construction, most of the designs incorporated knob and tube wiring (K&T), the then standardized electrical wiring model. This K&T method is most apparent in houses constructed between the 1880s and 1930s. Contrary to popular belief, K&T is not always hazardous. This all depends on how the installation was done and if there have been any maintenance efforts.
If you have K&T wiring, and you're worried it may be unsafe, give AC Electric a call to stop out and look at it. Most homeowners make the mistake of inspecting the traditional wiring themselves, which will put them in more danger.
The safety of your K&T wiring is dependent on a few factors. However, don't investigate on your own; instead, ring up a professional and get the right assistance.
Why Choose AC Electric?
AC Electric is the best in Willowick, Ohio, for residential and commercial electrical services. While anyone can make this claim, AC Electric has numerous awards, certificates, and recognition for exemplary work in the electrical field. Some of these awards include;
· The No.1 Electrician Servicing Cleveland, Ohio – awarded by the Channel 5 News, Cleveland.
· The Best Electricians In Cleveland Award – Recognized by The Expertise
· The Cleveland Consumer Awards No. 1 Electrician – Awarded by the Cleveland Consumer Affairs
These accolades show the amount of work and dedication put in by AC Electricals in ensuring all your commercial and residential electrical needs are serviced. Get the best electrician in Willowick, Ohio, and you'll never have to worry about electrical woes.