Electrician Vermillion Ohio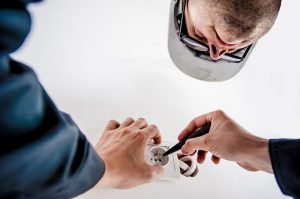 At times it might be tricky to find a good electrician in Vermillion, Ohio. AC Electric is here to be the one-stop electrician that you recommend to local family and friends. With more than two decades of serving Northeast Ohio, our primary focus is on customer satisfaction. You can confidently rely on us for your next home inspection, renovation, or wiring. We offer professional services for residential homes and commercial buildings.
Your business utilizes more than one electrical device; from lights, computers, automatic doors to printers and cash registers. For all of your devices to run efficiently, you need correctly wired electrical and other devices that are not faulty. AC Electric is the electrical contractor that offers you a combination of high-quality equipment, highly skilled electricians, and customer satisfaction, so you will not be disappointed with the work we do.
Our commercial services include:
· Troubleshoot and repair
· Installing and repairing outdoor and indoor lights
· General maintenance, repair, and substitute work
· 24/7 emergency services
· Switchboard installation
· Tenant improvements
· Power quality assessment and control, and so much more
Why Choose AC Electric?
We have over 20 years of experience serving Northeast Ohio and have built a solid reputation for showing up to jobs on time and getting the job done right the first time. Our customer service is also impeccable; our warm and welcoming staff will kindly explain your electrical issues and present a solution that we leave to you to decide if you want us to fix your electrical.
Our 24/7 emergency service makes it easy to call us at any time of the day, and we will be there to help you out. We are also available during public holidays; therefore, you don't have to worry about finding a licensed and highly skilled electrician in Vermillion during the holidays. We understand that an electrical problem can occur at any time, and we want to make sure we are there to fix it for you.
What's more, our electricians are fully licensed and experienced suitably to deal with any electrical problems. Our electricians are polite, timely, and professional. They will leave your home safer than they found it. Furthermore, we use high-quality equipment which will last a long time, and we offer reasonable prices that will match your budget.
Knob & Tube Wiring
Also known as K&T wiring, this system was the initial wiring in homes between the 1880s and 1970s. Some consider the system obsolete, and it can be a safety hazard, but most of the fears linked to it are undeserved. You do not have to replace it with a new wiring system. You can simply protect it with circuit breakers, but you will flip the circuit breaker if there's a circuit overload.
AC Electric has been awarded the following local awards;
· Consumer Affairs best electricians
· Best Electricians in Cleveland
· Channel 5 News #1 Electrician servicing, Cleveland Award