Electrician Serving Stow, Ohio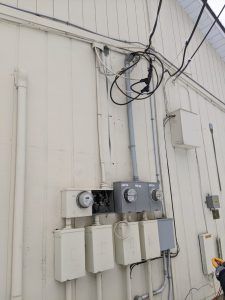 Are you searching for an electrician in Stow, Ohio? Would you like to see what excellent workmanship and high-quality work look like? You came to the right place! Here at AC Electric, we have been doing residential and commercial servicing since 1999, and we have received several awards for our top-notch services.
We work 24/7 to ensure your electric problems are solved, whether in the day or night. We have our staff on standby to receive your call and electricians to help you with any electrical issues. We also understand the importance of electricians during holidays and weekends. For this reason, we do our best to have electricians on call to service your needs!
Why Choose AC Electric?
Our friendly and consistently trained electricians offer high-quality work while always doing our best to leave your home safer. Since 1999, our electricians have been bringing warmth and function to your business and homes in Stow, Ohio.
We boast in offering honest, economic, and quality services to our customers. We tell you what to expect in advance, and do our best to get to you in an adequate amount of time. The electricians we send to your residence are polite, skilled, and almost always on time!
Our goal at AC Electric is to be the top company that comes to your mind when you or someone you know has a need for electrical work.
Knob & Tube Wiring Services
This is the original electric system. It was fitted in homes in the late 1800s to the 1970s. Even though Knob and tube wiring was of the art, it cannot handle the modern home's electrical demands as well as modern wiring. This wiring system has two wires, which is quite different from the modern one with three wires. One of the cables is a ground cable, which absorbs the excess current.
This system cannot handle all your electric needs even though it has been there for more than seven decades. However, you do not have to replace it. Instead of switching it, shield it using circuit breakers rather than fuses. In the case of circuit overload, you flip the circuit breaker.
Awards
We have won the following local awards;
· Best Electricians in Cleveland
· Consumer Affairs best electricians
· Channel 5 News #1 Electrician servicing, Cleveland Award
Call us today and experience the amazing services we have to offer!