Electrician Serving Shaker Heights, Ohio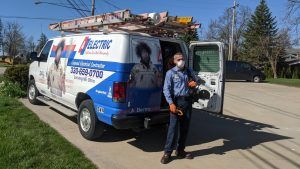 Are you searching for an electrician in Shaker Heights, Ohio?
Many homeowners call electricians when remodeling, building, or mostly during an emergency. It's vital to research a licensed electrician before you need his or her services. This is where AC Electric comes in handy; we offer skilled electricians with plenty of experience in residential, commercial, and industrial services.  While we offer a great array of services, we also boast about our fantastic 150+ Google Reviews with 4.8/5 Stars rating!
It's been a pleasure servicing Shaker Heights since 1999.  Shaker Heights sits in Cuyahoga County, and it is among the best areas to reside in Ohio. Living in this area offers you an almost uptown feel. Most people living in Shaker Heights usually are freethinking and loving people. At least the one's we've been servicing for over 20 years!
Here are a few reasons why we are one of Shaker Heights top-rated electricians:
· Competitive rates
· High-quality and excellent service
· Skilled & certified electricians
Commercial Electrician in Shaker Heights
Need a dependable and certified electrician in Shaker Heights, Ohio, for your commercial building or business? AC Electric is the company to call. We are a well-known company equipped to provide your business with a wide variety of electrical services. From wiring to repairs, AC Electric is the go-to option to serve all your firm's needs. You can expect the following once you call them;
· Reasonable rates
· Best quality materials and tools
· Reliable, polite service
Knob & Tube Wiring Services
This was the first electrical wiring ever used. AC Electric's certified electricians are well-skilled in Knob & Tube wiring services. If your house was constructed between 1900 to 1940, then there's a good chance that you may have this special wiring.
The knob and Tube wiring utilize no ground cables; therefore, there is no shielding if a fault happens. This means your home is under the risk of shocks and electrical fires. The name knob and Tube is derived from ceramic knobs, which support the ceramic tubes which encase the cables. The knobs support the tubes and maintain their stability as they pass through your home's framing. The difference between the contemporary and knob & tube wiring system is that the latter system separates the black and white cables.
Why Choose AC Electric?
AC Electric's priority is your safety. We offer A+ service with a smile to all of our customers.  Another reason why our customers love us is that we offer 24/7 emergency services. If you need help, whatever time of the day or night, call us, and we will immediately connect you to one of their electricians.
Local Awards:
· Best Electricians in Cleveland
· Consumer Affairs best electricians
· Channel 5 News #1 Electrician servicing, Cleveland Award