Residential & Commercial Electrician Serving Richmond Heights Ohio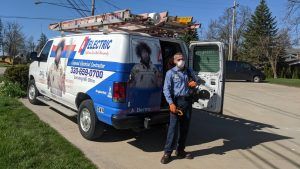 AC Electric is a reliable electrician you can call at any time with our 24/7 on-call electricians! If you are looking for an electrician in Richmond Heights, Ohio, you can count on AC Electric. Since 1999, we have been providing reliable and quality services to the Northeast Ohio region and beyond.
Our reliability has seen us win numerous accolades over the years. Whether you are looking to install new electrical apparatus, want help with troubleshooting, or have an electrical emergency, call us today. We will be there to fix it for you.
Why Does AC Electric Enjoy Servicing Richmond Heights?
Richmond Heights is unique in Ohio for its numerous attraction options catering to visitors of different tastes and preferences. There are several theaters, including the Dobama and Mamai Theaters. For history lovers, several museums and historical tours take you back in time, while art lovers have galleries to visit. For outdoor lovers, the Euclid Creek Reservation, and the North Chagrin Reservation are among the treasures to explore.
Your #1 Choice for Electrical Contractors in Richmond Heights!
Our commercial services cater to businesses of all sizes. We have worked with some of the largest companies in the region, whether it's maintaining their electrical equipment or helping them upgrade and install new systems. For commercial contracting services include; exterior and interior lighting, energy-saving solutions like motion and vacancy sensors, and we also offer bucket truck services. We have built a reputation with our exemplary work building electrical panels and new circuits.
Knob and Tube Wiring Services for Richmond Heights
Knob and Tube wiring is a cause for worry for many owners who have older homes that used the outdated system. However, much of the fear is misplaced since while old; the wiring is still sturdier, and, in many homes, they have stayed for decades without any problems. Where there is a risk of fire hazard, the use of proofing through circuit breakers is much more efficient. Our expertise in replacing knob ad tube wiring places us in a better position to determine the best way out that is safe and cost-saving.
Why Choose AC Electric?
We are continually training our employees on the best practices and new technologies. It allows us to offer safer services and also be familiar with the latest equipment and installations. Our reputation is reflected in the awards we have won, including being voted the best electrician in Cleveland by Channel 5 News, Expertise.com, and Cleveland Consumer Affairs.
Call us today for free troubleshooting and any other electrical problem you may have.