Electrician Perry, Ohio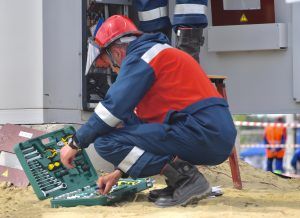 Are you searching for an electrician in Perry, Ohio? If you're searching for a top rated local electrician with over 170+ Google reviews with an average of 4.8 out of 5 Stars, then AC Electric is your choice!
AC Electric provides reliable, safe, and affordable electrical services to residents and businesses across Northeast, Ohio. Through different investments, AC Electric is dedicated to providing power in communities in several ways.
Residential Electrician Serving Perry
We have a team of electricians that are always ready to come to your doorstep to provide you with any form of help you might need. Whether you need new wires or the old ones give you trouble, we are just a call away.
The people of Perry have appreciated our residential services thanks to our company's effectiveness and dependability. We have received positive customer service because of our affordable electrical service. Call us today!
Commercial Electrical Contractor
We understand how it is essential to have your business and home running. For this reason, we are open to our customers 24/7 to give a hand with any issue that you might have.
Here is a short list of some of the commercial services we offer:
* Installation systems
* Installing security lights
* Lighting upgrades
* Electrical wiring
* Structured wiring
Knob and Tube Wiring
Knob and Tube (K&Y) wiring is an older method of wiring used in buildings from 1880 to 1930. K&T wiring is often seen in old homes that do not have the modern kind of electric wiring.
If there is this kind of wiring in your home, we can provide services where electricians can be sent to your home to evaluate your system. Our certified electricians are experienced individuals who can tap into this old system to ensure your home's safety. Many say it is outdated, but it is still present in some homes.
Why Choose Us?
We are here to keep your home safe and businesses running. We decided to offer 24/7 services because you never know when your electrical problem might arise!
Check out some of our awards we've achieved:
* Channel 5 News Cleveland Award for #1 Electrician servicing Cleveland, Ohio.
* Top Local Award according to Expertise.com: https://www.expertise.com/oh/cleveland/electricians
* Cleveland Consumer Affairs #1 Electrician Award: https://cleveland.consumeraffairs.com/electricians-cleveland/