Electrician in Parkman, Ohio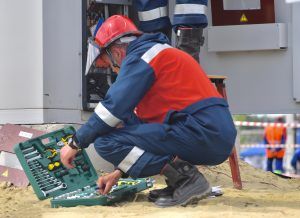 Are you searching for an electrician in Parkman, Ohio? AC Electric has been servicing homes in Northeast Ohio since 1999. From commercial services to all your residential needs, we do everything!
It goes without saying that it's vital that residential electrical systems and local commercial buildings must a stable and reliable electrical system in place. With our team of certified electricians and a 24/7 availability, we are ready to tackle your job.
Residential Electrician Serving Parkman
If you are searching for a reliable and professional residential electrician serving Parkman, look no further than AC Electric. With over 170 Google Reviews and a stellar reputation, you can rely on our friendly electricians to provide you with the service you deserve.
Sometimes in the service industry, you don't know what you are getting when you search on Google for a local business. That's why we have done our best to have our Google and BBB reviews speak for themselves so you know exactly what you are getting when you call AC Electric.
Commercial Electrical Contractors
Everyone wants their businesses to run effectively and without a hiccup. Commercial buildings are running heavy electrical nearly around the clock on some cases. This is why we are available 24/7 for all your calls if anything arises that you need repaired. Some of our commercial services include:
* Installing lights
* Lighting upgrades
* Electrical wiring
Knob & Tube Wiring
Knob and tube wiring has been around Northeast Ohio from the 1800s to the 1970s. After some time, people needed newer systems. Many people consider this system old and outdated. However, it is still available in some older homes.
While most people think this is a complete gut job, we sometimes recommend keeping it if it suits your needs and you are on a budget. At AC Electric, we have the experience to fix, maintain or replace knob and tube wiring.
Why Choose AC Electric?
We've been in business since 1999 servicing all of Northeast Ohio.  Just briefly mention our Awards:
* Channel 5 News Cleveland Award for #1 Electrician servicing Cleveland, Ohio.
* Top Local Award according to Expertise.com: https://www.expertise.com/oh/cleveland/electricians
* Cleveland Consumer Affairs #1 Electrician Award: https://cleveland.consumeraffairs.com/electricians-cleveland/