Residential and Commercial Electrician Serving Painesville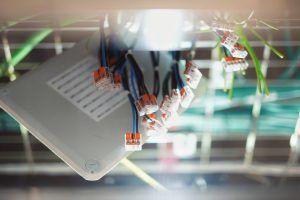 Are you searching for an electrician in Painesville, Ohio?  Since 1999, AC Electric has been serving Northeast Ohio faithfully while building a stellar reputation based on customer service and fantastic electrical work.  As a winner of multiple local electrical service awards, we are proud to have made an impact on nearly every city in Northeast Ohio.
Our professional and friendly electricians thrive on meeting one particular goal; the ultimate customer service experience.  We aren't satisfied with our work until you are satisfied.  So give us a call today to get you scheduled!
Electrical Contractor Serving Painesville, Ohio
While we thrive in the residential electrician market, one of the markets that made our company really blossom was the electrical contractor market.  AC Electric has served commercial buildings and offices since 1999.  We have done everything from wiring offices, re-configuring the electrical as well as some very large scale projects that require the large equipment we own to complete the work.
Knob & Tube Wiring
Knob and tube wiring is a type of electrical system where copper conductors are placed in insulated tubes and passed through walls. It's one of the traditional ways of wiring that's now outdated due to extra costs.
While this specific type of electrical is outdated, it does not mean it cannot be maintained and used safely.  We receive a lot of calls about knob and tube wiring and most people think it needs to be replaced.  While some customers prefer the modern day electrical, we have saved hundreds of customers from a complete replacement by fixing and/or maintaining their current electrical system.
Why Choose AC Electric?
AC Electric has been in business since 1999 servicing all of Northeast Ohio.  Below are some of the popular awards we have receieved: