Electrician in Norwalk, Ohio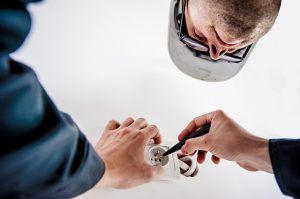 Are you searching for an electrician in Norwalk, Ohio? AC Electric is the one-stop-shop for all your residential and commercial electrical needs. We aim to complete each project with our customer's absolute satisfaction at a reasonable price. With more than 2 decades of experience servicing Northeast Ohio homes and commercial buildings, there is no electrical job we cannot handle. Our professional, courteous, and fully licensed electricians will fix your electrical issues efficiently and leave your property safer than they found it.
Residential Electrician in Norwalk, Ohio
AC Electric is fully licensed, bonded, and insured. Once you call us, you can be sure that our technicians will not only take good care of your equipment but they will also leave your home safe without tampering with any of your property's cooling, heating or electrical systems. Our electricians are fully trained, and before we hire them, we do a background check as well as drug tests. We offer residential as well as commercial services, and some of the residential services we provide are:
· Energy consumption evaluation
· Upgrading old wiring systems like knob and tube wiring
· Electrical wiring, layout, design, installation, and replacement
· Sale, fixture, and maintenance of back-up generators
· Home inspection
Commercial Electrical Contractor
We are highly experienced in routine inspections and all major commercial jobs. We own many large pieces of equipment that the smaller electricians do not have. Our primary objective is customer satisfaction, which can be clearly seen from our customer reviews. All electrical services will be offered according to Norwalk`s building guidelines. Our commercial services include:
· Updates and rewiring
· Complete analysis of your property`s energy consumption
· Electrical wiring, layout, design, installation, and replacement
· Sale, installation, and maintenance of top-quality equipment
· Routine inspections of your property
Knob & Tube Wiring Services
Before 1970, this wiring system was engineered so that the white and black cables can work independently. The current wiring system features one plastic sheath which covers both cables and the grounding wire. When fitting the knob and tube wiring, they positioned ceramic tubes in holes for the cables to pass through for shielding from abrasion against the wood. Most people consider this system obsolete, but it is not. Instead of replacing it, you can safeguard it using circuit breakers; therefore, if the circuit overloads, you simply need to flip the circuit breaker.
Why Choose AC Electric?
AC Electric is your ultimate source of an utter range of top-quality electrical services, from engineering, maintenances to design and start-up. We offer free estimates, and in case you have any questions, our warm staff is always ready to answer you the best they can.
Moreover, we offer 24/7 Emergency services; therefore, you can call us any time, whether day or night. We are also available during public holidays. Our response time is fast and reliable, so you don`t have to worry that we`ll be late to service your property.
Additionally, we offer affordable prices for all projects; therefore, you don`t have to break the bank to have your electrical issues fixed. Our technicians are also properly licensed to make sure you get the finest professional services.
We have been awarded the following local awards;
· Best Electricians in Cleveland
· Consumer Affairs best electricians
· Channel 5 News #1 Electrician servicing, Cleveland Award