Electrician Serving Northfield, Ohio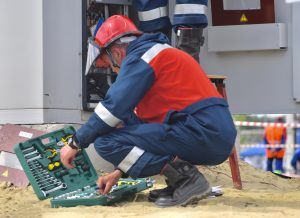 Are you searching for an electrician in Northfield, Ohio?  Look no further than AC Electric!  AC Electric has been servicing Northeast Ohio since 1999. No matter the electrical issue your facing, from commercial upgrades to simple residential problems, AC Electric will always have a technician ready to meet your needs.
We are devoted to offering the community high-quality and reliable services. Our properly licensed electricians will listen to you and understand the problem before providing a free estimate. You can trust in your decision to choose us since we will always leave your home or commercial building safe and neat.
As a business that has been running since 1999, we understand just how essential it is to provide quality residential services. Besides, our technicians will ensure to develop a lasting relationship with the community.
Commercial Electrical Contractor
At AC Electric, we are business owners, and we understand the vitality of your business to remain operational and safe and keep the running costs low. We will offer nothing but the best services. We know how busy it is being a busy owner so we do our best to ensure quick arrivals and fast service done right the first time!
Why Choose AC Electric?
We've been in the electrical business for over two decades now and we do our best to ensure our licensed and skilled technicians are polite, and always on time.
It's always a recommendation of ours to look at our Google Reviews.  The customer always speaks their mind, as you know, and you can see full transparency of our almost 200 reviews with an average of 4.8 out of 5 Stars!
We offer 24/7 emergency services and are available even on public holidays. This is because electrical issues can come up at any time, and some of them cannot wait for long to be fixed, which is why you should feel free to contact us.
Local Awards
We have been awarded the following local awards;
· Best Electricians in Cleveland
· Consumer Affairs best electricians
· Channel 5 News #1 Electrician servicing, Cleveland Award
Call us today for a free estimate!