Electrician in North Randall, Ohio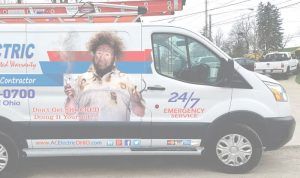 DIY never applies to serious electrical works. The job can be dangerous, and a lack of skills can result in costly outcomes. That's where electrician contractors come in. When you need the best electricians in North Randall, AC Electric is the company to call! From upgrades, installations, inspections, and simple repairs, AC Electric is your go-to company in North Randall, Ohio.
For decades, we have delivered excellent and reputable services that lead to safety and cost savings for families and homes. We have won several local awards for our services in North Randall and beyond. Learn what it means to have us take care of your residential or commercial electrical repair and installation.
The #1 Residential Electrician Servicing in Your Community
North Randall is a small area, but it still offers an amazing living experience with an urban vibe. It's rated as one of the best places to retire in America and the area boasts a thriving community, history culture. The Warren's Height School District offers top-shelf education to area residents with schools such as Warrensville Heights High School and Eastwood and Westwood Elementary Schools.
The area's hotspots include the JACK Thistledown Racino, Adrenaline Monkey, and the Farmer Jones Market. As a certified electrical contractor in the area, we deliver safe, reliable, and guaranteed service to homeowners. We keep homes functional, safe, and well lit.
Your #1 Choice for Electrical Contractors in North Randall
Electrical power is, without a doubt, the backbone of all commercial industries and businesses of all sizes. AC Electric is the leading provider of commercial electrical services in Northeast Ohio, having served some of the largest commercial properties in the area. We can assist in the planning stage for structure changes and remodels.
We can conduct safety inspections, perform rewiring, and replace breakers and fuses. Contact for prompt and professional electrical services. We can manage all scopes and sizes of your commercial electrical contraction requirements. We will ensure that the job gets done fast, safely, and cost-effectively.
Knob and Tube Wiring Services for North Randall
We can provide an upgrade to your old electrical systems, including Knob and Tube wiring. KT installations are common in older homes and comprise of electrical wiring passing through insulation rubber tubes in stud drill holes and joists. If you have this kind of installation, it has probably been around for more than 60 years and may not be up to the task for modern-day appliance needs.
We can help to protect this kind of installation with circuit breakers and save you unnecessary costs in replacement. Your K&T wiring has been around for all those years, and all that it needs is a little fine-tuning to meet the power needs of your many home appliances.
Why Choose AC Electric?
AC Electric has been in business since 1999, serving all the areas of Northeast Ohio. We employ highly skilled and professional individuals that are passionate about their jobs. You can expect an unmatched level of service with us. This is evidenced by the numerous awards we have won in the past, including:
Channel Five News Cleve-land Award for #1 Electrician servicing Cleveland, Ohio
Top Local Award according to the Expertise.com: https://www.expertise.com/oh/cleveland/electricians
Cleveland Consumer Affairs #1 Electrician Award: https://cleveland.consumeraffairs.com/electricians-cleveland/
Call us at 330-659-0700.