Electrician Serving North Perry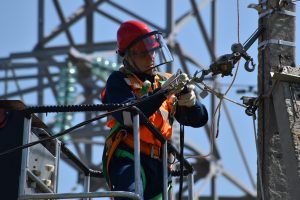 Are you searching for an electrician in North Perry, Ohio?  AC Electric offers a wide variety of electrical services to all North Perry residents.  We offer wiring and electrical upgrades tall the way up to more complex commercial building electrical systems. By choosing AC Electric, you can rest assured that our courteous and timely team of electricians will take care of your issues and leave your home or business safe and compliant with all state regulated electrical codes.
Residential Electrician in North Perry
Do you urgently require the services of an electrician in North Perry? You can be confident in your decision to choose AC Electric. Our technicians are polite, pleasant, and professional, and they are always prepared to offer the best services to keep you and your residence safe. Here are some of the services we offer:
· Full wiring
· Lighting design and retrofits
· Upgrades and replacement of faulty equipment
· Home inspections
· Installing outlets and switches
· Pricing repairs
Commercial Electrical Contractor
We have been in the industry for the last twenty years, and our technicians are experts at all commercial electrical components. Our goal at AC Electric is to deliver the best solutions and services in a friendly, professional, and timely manner. All our field electricians are skilled and fully licensed. Some of the commercial services we offer include (but not limited to):
· Alarm monitoring
· Lighting upgrades
· Electrical contracting and wiring
· Installing and fixing lighting on the parking are
· Structured wiring
Why Choose AC Electric?
Our licensed electricians are attentive and experienced, no matter what the project is or the size of the project. You can rest assured that we are always available as we offer 24-hour emergency services. Our staff is always ready to take care of you no matter what time it is. With more than 20 years' worth of experience, you can be sure that there is no job we can't handle, whether big or small, commercial or residential.
Knob & tube Wiring
Homes built between the late 1800s and early 1970s usually still feature knob and tube electrical wiring systems. In this system, Electrical cables are held on to by ceramic knobs, which go through ceramic tubes positioned in the drilled holes inside the homes wooden joists. It does not have a third grounding cable, just a neutral and hot cable. Even though these two are switched for three-prong outlets, for gadgets that need them, like kitchen appliances, there is still no third cable that shields your home against electric shock.
But fear not, this system has been here for years, and it works just fine. You do not need to replace it, though you can protect it with a circuit breaker; therefore, you simply need to flip the circuit breaker if the circuits overload.
Local Awards
We have been awarded the following local awards;
• Best Electricians in Cleveland
• Consumer Affairs best electricians
• Channel 5 News #1 Electrician servicing, Cleveland Award