Electrician in Litchfield Township, Ohio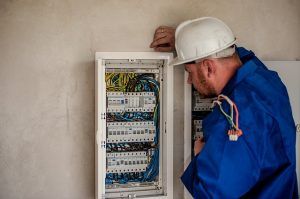 Are you searching for an electrician in Litchfield Township, Ohio? Call AC Electric today! If you`re searching for an exceptional electrical contractor in Litchfield, you have come to the right place. We offer genuine and reliable services, which is a result of more than 2 decades of electrical services. We are properly insured and licensed, offering the best services at reasonably priced rates. You can check out the reviews from our satisfied clients.
Commercial Electrical Contractor
AC Electric has been servicing Northeast Ohio for the last two decades, and we have been awarded several awards for our impeccable services. Our commercial services include:
· Service up-sizing
· 120 to 480 V wiring from the power source to the plugs in the building
· Adding sub-feeds and power distribution panels
· Installing lights in the parking lot – if lights are left on when they`re not in use, they can cost your organization a lot of money. Also, if your lights are not working, you need to replace them with low-power consumption ones to reduce utility bills
· Security lighting
· Upgrading your property to meet the recent codes
· Fluorescent fitting – we install bulbs and do convert fittings since they are more effective are modern. Also, some of them can use your current fixtures and save you funds.
· Emergency and lighting replacement and maintenance
· Energy consumption evaluation
· Property spotlighting
Residential Electrical Services
At AC Electric, we made our start by servicing Lakewood and the surrounding community.  We quickly grew and opened a large office in Richfield, Ohio.  Being a residential electrical contractor serving Northeast Ohio has led to our fast growth.  We contribute this to our superior customer service and friendly service.  Our goal is to complete the work the first time so we don't waste your time and have unnecessary work.
Here are some of the services we offer to give you an idea of typical service calls:
· Fixing and replacing Knob and tube wiring
· Replacing faulty fans, switches, lights, and outlets
· Service updates
· Old wiring upgrades – ungrounded or covered BX, and covered Romex confiscation or replacement
· Installing generators
· Motion sensing and security lights installation
· Changing fuses and breaker panels
· Installing smoke detectors
· Installing TV cables, data and surround sound systems
· Installing recessed can and landscape lighting
· Surge protection at the main power distribution panel
Why Choose AC Electric?
Here at AC, Electric we offer quality services to all our customers. From fixing the minor issues like faulty sockets to the major issues like old wiring replacement. Every time you call us, you can always expect the finest services. Also, our staff is professional, polite and always on time.
Besides, we are available 24/7, even on public holidays, which means you can call us anytime, and we will be there to service your home or commercial property. Our services are affordable as well. Whether it is a huge commercial project or a simple residential task, you can always depend on our inexpensive services. With more than 20 years of experience, there is no electrical project we cannot handle.
Knob & Tube Wiring Services
Unless you reside in a home that was built before 1970, you most likely don't have to worry about this wiring system. Knob and tube wiring was the original wiring system, and it was installed in houses and buildings built between the late 1880s and early 1970s. However, this wiring system is not quite capable of handling our modern electrical needs. This does not mean you need to replace it; you simply need to upgrade it. You can shield it using circuit breakers, which means if the circuit overloads, all you have to do is flip the circuit breaker.
We have been awarded the following local awards;
· Best Electricians in Cleveland
· Consumer Affairs best electricians
· Channel 5 News #1 Electrician servicing, Cleveland Award
Call us today for a free estimate and unmatched craftsmanship!