Residential & Commercial Electrician Serving Independence Ohio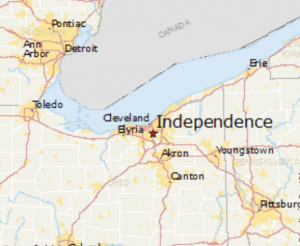 When it comes to an electrical contractor in Independence Ohio you don't have look any further than us. Here at AC Electric we have helped the Northeast Ohio Community since as early as 1999. And through these years we have proved time and time again to be the best electrician in Independence Ohio. A fact that is backed up by our earned awards and the reviews of all of our satisfied clients. So don't think twice and let us be the ones to help you with all your electrical needs.
The #1 Residential Electrician Servicing Your Community
If something defines the spirit of Independence that definitely is the proud Cuyahoga River going through all of it, as well as the National Park that accompanies it. And much like the Cuyahoga that goes beyond Independence and spreads across the entire region; we are committed to be the best provider you can find in the general Ohio area. Our staff is made of certified specialists that can tackle any residential electrical repair. Whether you require maintenance or a complete renovation our team is ready to help you in any way.
Your #1 Choice for Electrical Contractors in Independence Ohio
Another advantage to our services is that while we excel at residential services we aren't limited just to them. In our time working AC Electric has also provided service to entire residential buildings, as well as larger commercial properties like malls and the like. Scale is not an issue with us, and whether you are a house owner or you need help wiring an entire mall our services will always be available for you. Don't leave things in the hands of amateurs, and rely on the number one electrical contractor in Independence Ohio instead, let us give you the best service you can have.
Knob and Tube Wiring Services for Independence Ohio
Chances are that if you count with a Knob and Tube system in your house you might be slightly concerned. Whether due to the belief that it presents a household risk or because you think it needs a complete and expensive replacement. Thankfully we are here to inform you that is not the case. While K&T might have been phased out it's not due to reliability, but rather for ease of installation. If you have a K&T system just give us a call and we'll update it in next to no time.
Why Choose AC Electric?
When it comes to our trajectory in Ohio since 1999 we are proud to announce that it has been one full of satisfied clients and acknowledgment from the community. And that is something we can prove through our multiple awards. Expertise.com named us amongst the top local contractors in all of Cleveland. Channel 5 News granted us the Cleveland Award for the #1 Electrician in the region. And Cleveland Consumer affairs backed up their choice when it named us the #1 Electrician in the area. We are proud of these titles because it shows that we are really a force of good in the region, and the safety of the wellbeing of our clients will always be what motivates us to give our best.