Residential & Commercial Electrician Serving Ravenna, Ohio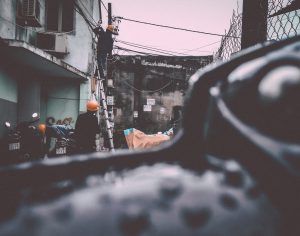 Are you looking for a residential or commercial electrician in Ravenna, Ohio? AC Electric should be your first choice. We've been servicing residents and businesses in Northeast Ohio with all their electrical needs since 1999! In the 20 years that we've been providing top-notch electrical services in this region, we've has won numerous local awards. AC Electric offers conventional electrical repair and installation services and niche services like knob & tube wiring.
The #1 Residential Electrician Servicing Your Community
AC Electric has always aimed at providing trailblazing electrical services to the Ravenna, Ohio community and beyond. Our goal is to provide our A+ BBB Rated services to all residents and businesses in Ravenna.
Our goal as an electrical services provider is to offer you, our great customers, the top quality electricians in Northeast Ohio. We have well-trained technicians and have a history of providing quality, reliable services. As a customer using AC Electric for your needs, you will get nothing but industry-leading services.
Your #1 Choice for Electrical Contractors in Ravenna, Ohio
With over two decades of experience providing electrical repair and installation services to buildings of all shapes and sizes. This includes some of the largest commercial properties in Northeast Ohio. AC Electric offers decades of experience and reliability in handling big electrical projects. The saying really is true for us, no problem too big and no problem too small. we have all the reliable equipment to tackle all your requests.
Commercial electric contracting is a demanding undertaking, and it will serve you right to go with a reliable company with experience in this matter. You will not only be able to get the service provided within the shortest time possible, but you will also get to enjoy peace of mind knowing we've, "been there, done that" already!
Knob and Tube Wiring Services for Ravenna, Ohio
Most buildings constructed before or between the 1880s and 1930 utilize knob and tube wiring. This wiring system is one of the most reliable options and still survives in old buildings. AC Electric has been repairing and servicing knob and tube wiring installations in homes across Ravenna, Ohio, and beyond for more than 15 years. We've perfected our craft on this challenging undertaking, and this has allowed us to provide unmatched services in this niche.
Why Choose AC Electric?
In the 20 years that AC Electric has been servicing all of Northeast Ohio, we've won the Channel 5 News Cleveland Award for #1 Electrician servicing Cleveland, Ohio. In addition to this, we've also been the receiver of the Cleveland Consumer Affairs #1 Electrician Award and the Top Local Award from Expertise.com.
Call AC Electric today for all your electrical needs!