Professional Electrician in Olmsted Falls, Ohio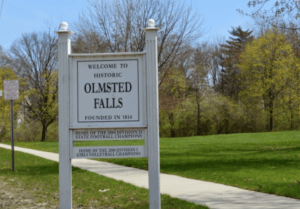 If you have been searching for a professional Electrician in Olmsted Falls, Ohio whom you can rely on for all your electrical repairs and installations, you have come to the right place! We have been providing the best quality electrical services in and around Olmsted Falls for well over a decade now. Our reputation as one of the most reliable electrical contractors in Olmsted Falls and other neighboring cities was confirmed by our being rated the number 1 electrician in Cleveland by Cleveland Channel 5 news!
When you hire us to handle your electrical needs, we make sure we give you first-class electrical services to meet all your electrical needs. Our electrical services are tailored to meet both residential and commercial electrical needs of residents and business owners in the Olmsted Falls area. At AC Electric, we strive to keep all your electrical works and appliances working as they should to keep you safe and comfortable while regulating your energy as efficiently as we can while working within your needs.
A Wide Range of Electrical Services
There is hardly any type of electrical service we cannot handle. We cover all parts of Olmsted Falls and provide all services related to electrical needs. If you want to experience quality electrical repairs, installations and replacements, make sure you insist on hiring the electrical contractors with all the skills and experience to help you do a perfect job. As experts, we take adequate precautions while handling your electrical repairs and installations to ensure the safety of everyone living in your home or using your commercial facility.
Licensed and Certified Electricians in Olmsted Falls, Ohio
With many claiming to be professional electrical contractors, one has to be careful not to hand over something as sensitive as electrical repairs especially to some amateurs with little or no experience about the job. We have been in the business of electrical repairs and installations long enough to know the dangers and hazards associated with badly done electrical works. To ensure everything about your wiring and electrical connections are as they should be, we will send you one of our licensed and certified electricians (most are certified/licensed but not all. We do our best to have one of the job!)to give you the best services.
Durable and Affordable Services
We want to make sure no electrical appliance in your home develops any type of problems as a result of your wrong electrical connections. Why resort to self-service or allow inexperienced handymen to handle your electrical works when you can hire the best to help you give your electrical a professional touch? At AC Electric, we work hard to ensure we deliver durable and satisfactory services. When it comes to cost, we are arguably the most affordable electrical contractors in town and we work hard to protect our hard-earned reputation.
Feel free to contact us whenever there is any need for electrical repairs or installations in your home or commercial property in Olmsted Falls Ohio and its environs.