Residential and Commercial Electrician Serving Kirtland Ohio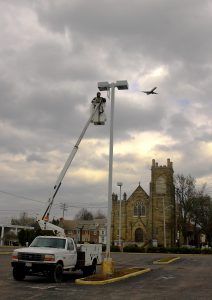 When you are faced with an electrical challenge or problem which requires urgent resolution, it is great relief to know you have a top electrician near you named AC Electric. Whether it is doing wiring to your house, installing electrical apparatus and gadgets, troubleshooting faulty systems, or responding to an emergency, the best electrician in Kirtland Ohio is what you need.
AC Electric is the top electrical contracting company and has been serving the whole of North East Ohio since 1999. Numerous awards have recognized our customer-centered quality service over the years. So you can bank on us to deliver quality whenever you need our assistance.
The #1 Residential Electrician Servicing Your Community
Kirtland Ohio is home to the largest manufacturer of solid carbide cutting tools, SGS Tool Company. It has also managed to retain a rural feel about it despite the industrial development with several large parks keeping you in touch with nature every time.
At the same time, the Cuyahoga River provides scenic sights and enough room for water adventures. In this blissful yet industrious environment, our certified services, and expertise as the number one residential technician in your community ensures an electrical problem does not halt your activities.
We cover all residential electrician needs in Kirtland Ohio, ranging from installation to maintenance and troubleshooting. We have certified and highly skilled technicians who are under continuous training. They are capable of resolving any electrical issue fast and with quality and lasting results.
Your #1 Choice for Electrical Contractors in Kirtland Ohio
We are your top electrical contractor in Kirtland Ohio and have worked with many companies and organizations, building a solid reputation you can rely on. Our contracting work includes external and interior lighting, focusing on energy-saving solutions, electrical maintenance, installing new circuits and electrical panels, generator installation, and servicing, and electrical modifications, among other services. We are essentially a one-stop solution for any contracting work, and there is nothing too small or too big for us to handle.
Knob and Tube Wiring Services for Kirtland, Ohio
One of our specialty services is knob and tube wiring. Knob and tube wiring (K&T) is an older wiring model that has since been replaced by the current system and the use of NM cables. Homeowners usually worry about this system and feel that it should be replaced as a whole. Often, all that is needed is to get the system proofed against potential hazards or upgrading certain sections.
Our first approach to assess your house thoroughly and determine whether it is best to replace the entire K&T system, which we are experts at doing, or install safety features like circuit breakers or a surge protector for the entire house.
Why Choose AC Electric?
With over 20 years of experience, regular training, proper insurance, and our location, which makes us under an hour away from your location anywhere in Ohio, we are your best option for anything that would need an electrician's attention. In recognition of our commitment to satisfying our customers and superior services we have been awarded many honors including;
· Channel 5 News Cleveland Award for the best electrician in Cleveland, Ohio
· Best Electrician in Cleveland 2020 by Expertise.com
· The best Electrician Award by Cleveland Consumer Affairs
Call us today on (216) 941-3072 for free troubleshooting and we shall fix your electrical challenge.