Electrician Servicing Hudson, Ohio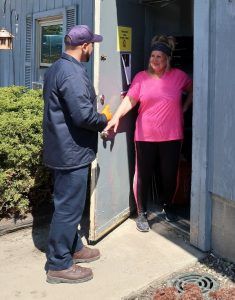 AC Electric has been the go-to solution for all residential and commercial electrician needs in Hudson, Ohio. We have been offering our award-winning service and solutions in the Northeast Ohio region since 1999. We view ourselves as electrical service technicians providing one-stop electrical services for anything you need. Whether you are looking for regular maintenance, product installation, repairs, or facing an electrical problem whose origin you cannot trace, we are the people you call. Our emergency services mean you can call us any time any day.
The #1 Residential Electrician Servicing Your Community
Hudson is home to the Cuyahoga National Park and is also the famous home of the Western Reserve Academy, the founding point of the Case Western Reserve University before it moved to Cleveland. The town has a strong heritage in leading change, and such pioneering and service are what inspire AC Electric.
We are a fully licensed company to cater to all your residential electrical contractor work, and our staff are all trained and certified technicians capable of handling any work These services include (but not limited to) wiring services, LED lighting, generator selection, and installation, buried electrical line repair, whole-house electrical inspection among others.
Your #1 Choice for Electrical Contractors in Hudson, Ohio
AC Electric is your go-to electrical contracting company in Hudson. We serve all kinds of clients from households, to commercial properties like shops and construction companies to full-fledged industries. Since 1999 we have been helping companies with their power equipment maintenance, installing new power circuits and electrical panels, as well as improving the lighting solutions in your office.
We have worked in various industries and sectors and all kinds of facilities ranging from welding and machining to chemical and medical facilities. Our service and solution help you attain your green energy goals and also impacts your bottom line positively.
Knob and Tube Wiring Services for Hudson
Knob and Tube Wiring is and older (from 1880 to 1930s) form of electrical wiring usually found in older homes. While it may be and inconvenience in some instances, it is not inherently bad nor outdated as the general perception towards it would have you believe. They are safer and far less prone to fire hazards compared to the modern alternative of using the NM cable.
While we are experts and have the resources to help you replace the K&T wiring in your home, you need to understand the extra costs which you will incur and the alternatives you have to work around the K&T installation safely. We prefer you to call us, and we evaluate the condition of the wiring and your needs. While we can easily make the changes, we prefer our clients to know all the facts to avoid regrets once we have completed the changes requested.
Why choose AC Electric?
Our experience since 1999 is unmatched, and it has allowed us to work with a varied clientele, all having different needs. This experience helps us in making fast assessments of problems and knowing which solutions will best serve your needs.
Our staff is always being trained weekly on top of their professional and academic qualifications to keep them up to date with changes in technology as well as National Electrical Code and Ohio's Building and Residential Codes.
We also provide you with exceptional customer service from the moment you call us to the moment we resolve your issue or complete our project. Our response time is under an hour thanks to the central location, and we even have a simple checklist to help you troubleshoot an electrical problem and save you the service call.
Our 24-hour emergency service means you cannot miss us at your hour of need regardless of day and time, and your call will be received by a real person, not an answering machine.
We are also fully insured and adhere to all safety standards, so you and your property are at no risk of liability whatsoever when we are on the ground.
A stronger reason to choose us is the reputation we have built over the years backed by an A+ rating on BBB, as well as hundreds of references from your neighborhood you can check with.