Residential & Commercial Electrician Serving Hartville, Ohio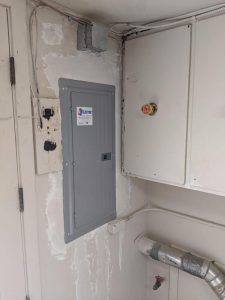 Chances are you have arrived here because you need an electrician in Hartville, Ohio.  Imagine a major storm hitting and you hear a loud, "Boom!" and your electricity goes out in the evening right when it's starting to get dark outside.  We've all been there before, right?  No back-up generator and we fumble around trying to find our phones for the light to find other lights to use.  Unfortunately, power outages aren't the only thing causing your electricity to go out.  This is why it can be very frustrating to experience electrical issues, whether at home or commercial building. Electrical issues mean no air conditioning, your devices won't have any charge, and a life like this is no fun at all. As a residential or commercial property owner in Hartville, our goal at AC Electric is to provide you with as much security as possible with your electrical systems.
We are a top-notch, customer service oriented electrician serving Hartville, Ohio. We've been servicing property owners in Northeast Ohio and beyond since 1999 and have received numerous recognitions and won many local awards.
The #1 Residential Electrician Servicing Your own Community
As a Hartville resident, you enjoy shopping at the massive Hartville Marketplace & Flea Market and experiencing the best of art at the Maple Street Art Gallery. Hartville is such an amazing community and your home in Hartville is a great investment. AC Electric wants to ensure your investment is safe with proper electrical work.  If you are a resident in need of electrical repairs or enhancements, call us now!
Your #1 Choice for the Electrical Contractors in Hartville
In the 20 years that AC Electric has been in operation, it has serviced countless buildings of all shapes and sizes. You can rest assured that we can handle the job no matter how unique your property is. We've had the privilege of servicing some of the most massive commercial properties in Northeast Ohio.
Knob and the Tube Wiring for Hartville, Ohio
Hartville buildings that had their electric installations done from the early 1880s to the late 1930s primarily utilize the unique knob and tube wiring. This wiring style fell out of favor nearly 90 years ago, and most new age electricians have no experience handling its repair and maintenance.
AC Electric is one of the few electric contractors left with the experience and expertise to handle repair and maintenance for knob and tube wiring. If you are running this type of wiring on your residential or commercial property, you should conduct regular maintenance due to its old age.
Why Choose AC Electric?
Having been in operation since 1999, AC Electric has the expertise and experience to deliver outstanding services. Some of the awards that we've won for our exemplary services include the Channel Five News Cleveland Award for #1 Electrician Servicing Ohio, Cleveland, the Top Local Award by Expertise.com for electrical services, and Cleveland Consumer Affairs #1 Electrician Award.
Give us a call today to solve your electrical needs!