Electrician in Fairlawn Ohio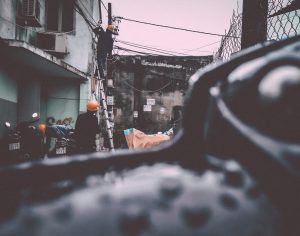 AC Electric is the number one electrician in Fairlawn Ohio. AC Electric has been serving Northeast Ohio since 1999 and we've won numerous local awards for our services. With a solid reputation and over a thousand satisfied clients, AC Electric is the electrical services company you are looking for!
The #1 Residential Electrician Servicing Your Community
Fairlawn, Ohio is a beautiful place full of greenery and tranquility. From the Cuyahoga Valley Scenic Railroad to The Winery at Wolf Creek, we are proud to provide the residents of such a beautiful area with our services. As a qualified electrical contractor for residential needs, we know how the quality of our work can have a lasting, positive impact on the lives of our customers. With our local community and superior work quality at heart, we strive to complete each job in a professional and safe way and provide a friendly service, with lasting customer satisfaction as our number one priority. Whether a full-out or maintenance service, we are the electrical contractor of your choice, when making your home the perfect place to live in.
Your #1 Choice for Electrical Contractors in Fairlawn, Ohio
As certified electrical contractors, we are able to service buildings of all shapes and sizes. We know that in a commercial setting, all works should be carried out with minimal disruption to business, as quickly as possible, but also with safety of all as a number one priority. You will be glad to learn that we have serviced some of the largest commercial properties across Northeast Ohio and are highly experienced in carrying out all kinds of commercial electrical services and installations. Our professionalism, experience and efficiency has earned us the trust and a highly esteemed reputation of our clients. If you are looking for a qualified electrical contractor to carry out a job on your commercial property, we are your perfect choice.
Knob and Tube Wiring Services for Fairlawn, Ohio
Knob and Tube wiring is a method of electrical wiring, most common in buildings built from about 1880 to somewhere in the 1930's. Commonly seen in old homes, it consists of single-insulated copper wiring, found in walls, floors and ceiling cavities. In order to pass through studs and joists, the wiring was threaded through especially bored holes fitted with protective insulating porcelain tubes, with the wire length supported on special porcelain knobs, which were usually nailed in place. With many old fashion methods used in such installations, it is necessary to employ highly skilled tradesmen to carry out needed work on such systems. We are proud to be able to provide our customers with such a service, which includes the evaluation of the condition of the installation and the making of necessary repairs and upgrades.
Why Choose AC Electric?
We've been in business since 1999 servicing all of Northeast Ohio. Thanks to our expertise we have won numerous awards like the Channel 5 News Cleveland Award for #1 Electrician servicing Cleveland, Ohio. We have also been awarded with the Top Local Award by Expertise.com and given the #1 Electrician Award by Cleveland Consumer Affairs,
Our reputation and expertise is hard to beat. So if you are looking for an electrical contractor for your residential and commercial needs in Fairlawn, choose wisely. Choose AC Electric.