Electrician Serving Berea, Ohio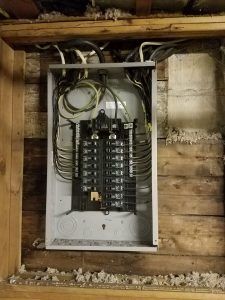 Are you searching for an electrician in Berea, Ohio? AC Electric is a complete residential and commercial electrical contractor, and we have served most of Ohio for over two decades. We are well-equipped to handle your residential electrical needs, from home inspections to electrical repairs to rewiring. Also, we handle commercial electrical tasks from remodels to maintenance to new construction contracts.
AC Electric boasts of being the number one Electrical Contractor in Northeast Ohio. Our expertise includes new and retrofit construction of a vacant electrical structure. We offer high-quality electrical workmanship, and you will not be disappointed with our work.
AC Electric has experienced success and a good reputation by building strategic relations with clients, contractors, and business owners, among others. We are built on fundamental values, and among them is to remain reasonably priced so as not to exploit our clients.
Berea is Loaded With History!
Berea has a fascinating history, which reveals that John Baldwin, AKA Baldwin Wallace College, is among the few founding fathers of this region. This wonderful and historic community is situated about 12 miles from Cleveland, Ohio, and it is 2 miles from Hopkins International Airport. Considering its proximity to the city, residents can access Cleveland easily, and if you need to fly out, Cuyahoga's Hopkins International Airport is also very close. Berea has plenty of development programs that will hopefully urbanize this unique region soon. This area has a suburban feel, and most of the residents own their homes.
Why Choose AC Electric?
Here at AC Electric, we are available 24/7. Our warm and welcoming staff will pick take your call at any time. Once you call us and tell us about your electrical problem, we explain to you in detail how we will potentially solve it to give your confidence and trust in us. We pride ourselves on customer satisfaction and quality work.
What's great about working with us that you get certified electricians working on your home or business. This means you do not have to stress about a sub-standard job. Additionally, the electricians we send to your home are polite, professional and they keep time. Once you book an appointment, you can be sure our electricians will arrive without any delays. However, if there is a delay, we will always notify you in advance!
You will also get a customized solution; once you tell us about your electrical problem, we will prepare a well-thought-out quote, depending on the problem and budget. Our electricians will leave your home safer than they found it.
Knob & Tube Wiring
While older houses have their sense of exceptional fascination, they also come with exceptional issues. Knob and tube wiring is found in homes that were constructed before 1970. Not only is this wiring system outdated, but it might also not be able to handle your electrical needs suitably. Depending on your electrical needs, it might turn out to be a safety threat.
AC Electric will help you fix this. Most people will recommend that you change this wiring system entirely, but that is not necessary. This system has been there for a long time; why get rid of it entirely when you can shield it using circuit breakers? This means that if the circuit overloads, you have to flip the circuit breaker.
Awards
We have been awarded the following local awards;
· Best Electricians in Cleveland
· Consumer Affairs best electricians
· Channel 5 News #1 Electrician servicing, Cleveland Award
If you reside in Berea, Ohio, you should call us for your home inspection!