Electrician Amherst Ohio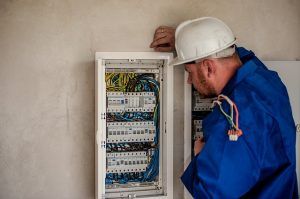 Are you searching for an electrician in Amherst, Ohio? AC Electric has been serving Amherst and Northeast Ohio for more than two decades. If you have a residential or commercial project that needs an expert's touch, you're in the right place!
We ensure that all our electricians are properly licensed, insured, and we also do a background check. We will only employ the best of electricians, so you can be sure there won't be any issues working with AC Electric. We are your No. 1 electrical contractor in Ohio, and we are proud to serve the people of Ohio.
Residential & Commercial Electrician in Oberlin
We have over 20 years' worth of experience in a wide array of electrical services. From minor troubleshoot issues and repairs to significant commercial jobs, AC Electric is highly qualified, licensed, and always ready to have the job done. For us, customer satisfaction is our number one goal.
We will fix all your electrical problems, from the original design to the final touches. Our team of polite and high-skilled electricians, will manage your project and ensure each facet is run the right way.
Here are some of the residential jobs we perform:
· Add switches and outlets.
· Switch, repair, or upgrade panels
· Replace or add breakers
· Troubleshoot and fix all minor issues
· Install circuits for hot tubs, RV hook-ups, wells, and so much more!
On the other hand, our commercial services include, but are not limited to:
· Fix minor issues and troubleshoot
· Wiring new commercial buildings from offices to restaurants, and so on
· Replace or add breakers
· Install or repair services
· Install circuits
· Install lights in your pouch
Why Choose AC Electric?
Our electricians are reliable, and they specialize in commercial and residential services. We are dedicated to giving you the most reliable customer service in Ohio. Whether you require a small issue fixed or installing a brand new wiring system in your home or commercial building, we will do the job impeccably. With our 24/7 emergency service and availability even during public holidays, we are available at any day or time to come to help you out.
We do our best to save you money and time by blending our experience, quality equipment, and commitment to offering excellent services. We will not leave your home or office until you are satisfied.
Knob and Tube Wiring
This is the electrical system that was installed initially in houses between the 1880s and the early 1970s. It features two parts; the knob and the tube. The cables had to cross the panel box, while the ceramic cylinders were fitted after drilling a hole via the panel. This stopped the cables from getting in contact with other wires. Tubes were utilized where cables intersected each other.
Even though some electricians insist on replacing this system, it is not necessary. After all, it has been running for more than ten decades. You can shield it with circuit breakers, but you will have to flip the circuit breaker in case of a circuit overload.
AC Electric has been awarded the following local awards:
· Consumer Affairs best electricians
· Best Electricians in Cleveland
· Channel 5 News #1 Electrician servicing, Cleveland Award