Residential & Commercial Electrician Serving Brooklyn Ohio
AC Electric is a very popular choice in Northeast Ohio when it comes to electrical needs. We are a residential and commercial electrician servicing Brooklyn, Ohio.  It is no coincidence that we won several awards since 1999. Our effort is unmatched as we put our customers at the same level we put our own mothers! We are so confident about our work that we don't mind giving a limited lifetime warranty. We even provide 24/7 electrical services so it won't matter if you need us late at night or early in the morning, we will come to your place fully determined to solve your electrical problem.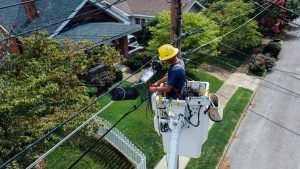 The #1 Residential Electrician Servicing Your Community
Since 1999, we have served many residents of Brooklyn, Ohio, and we're looking forward to serving hundreds more in the future. We always greet each resident with a smile and we respect any boundaries in terms of privacy. Also, it is pretty easy to set up an appointment with us.  Just simply call us right now and a member of our highly-trained customer service team will get in touch with immediately no matter what time of the day. The best part is our reasonable rates along with our top-notch certified electricians!
Your #1 Choice for Electrical Contractors in Brooklyn Ohio
AC Electric's response time is extremely fast. We put a sense of urgency across all of our calls and do our very best to expedite all your service calls. We are also going to bring all the needed equipment for the job so we won't have to go to the nearest rental store. In addition, we have served some of the largest buildings in Brooklyn, Ohio. The size of the job won't intimidate us as we are eager to start the job and get it done right away.
Knob and Tube Wiring Services for Brooklyn Ohio
Despite the fact that Knob and Tube wiring services is seen in so many households, it is extremely difficult to put together. This is certainly not one task that you can do yourself. Good thing, AC Electric has been dealing with Knob and Tube wiring for a long time. Even if it looks so hard, we are going to make it look easy!
Why Choose AC Electric?
AC Electric guarantees ultimate customer satisfaction. We use the best materials available in order to satisfy customers. We never deal with used materials as they know that would not yield the same results. The Cleveland Consumers Affairs recognizes several electricians and AC Electric is the electrician in Brooklyn Ohio that is on the top of the list. Furthermore, we give free advice over the phone. Besides, there are some electrical problems that are going to make you scared that you won't know what to do. We also got recognized by Expertise.com as the number one electrical contractor in Cleveland Ohio and that is never an easy task due to their selection criteria!