Lighting Installation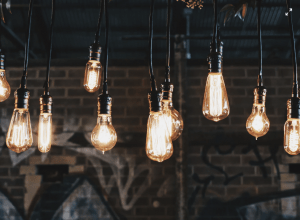 Are you searching for a top rated local electrician for your lighting installation needs?  AC Electric is an A+ Rated electrician by the BBB and highly rated on Google by our amazing customers.  We welcome all new customers with open arms as we continue to try and spread our top quality services to the residents of Northeast, Ohio.  No matter what type of lighting install you need, AC Electric can take care of it for you with our certified electricians!
Residential Lighting Installation
Can you guess what keeps us booked year-round and comes in all sorts of styles?
If you guessed decorative lighting pat yourself on the back.
We receive phone calls daily for that final touch on the important projects in your home.  On a daily basis we have our certified electricians installing all sorts of lighting fixtures in every room in homes.  From chandeliers to dining room accent pieces, we can do it all for you!
Below is a list of our most common lighting installation projects:
LED Lighting
Kitchen Lighting
Recessed Lighting
Track Lighting
Smart Lighting Controls
New Lighting Circuits and Wiring
Lighting Repair
Bathroom Lighting
Landscape Lighting
Motion Sensor Security Lighting
Lighting Dimmers
Lighting Timers
Commercial Lighting Installation
When it comes to commercial lighting, we are considered one of the top local electrical contractors for the job.  At AC Electric, we have everything that is needed to tackle the biggest projects the commercial world has to offer us.  We own most of the equipment needed so there is no delays for your important jobs.  We have our own bucket truck with all the necessary tools for your job.
Whether you need a commercial or residential electrician, give AC Electric a call today!