Landscape Lighting Installation Services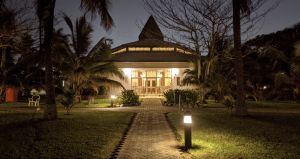 Are you searching for a professional electrician offering landscape lighting installation services?  Welcome to AC Electric, home of one of Northeast Ohio's top rated local electricians!  At AC Electric, we have been offering landscape lighting installation services since 1999.  It quickly became apparent when we were first in business that having an aesthetically appealing yard was very important to our customers.  One of the best ways to top off a great looking landscape was by adding lighting that is used to accentuate your yards best looking assets.
By working with AC Electric on your landscape lighting, you will be able to have a clear understanding of your unique lighting needs and the scope of the job at hand.  We understand as a homeowner that it's important to know what you are biting into before taking the bite.  Some jobs are very quick, while others, due to electrical access, become very time consuming and labor intensive.
To get a better understanding of what your specific needs will be, we recommend calling AC Electric and scheduling an appointment to have one of our professional electricians answer your questions and provide you with a cost as well as scope of work.
Do You Need an Electrician to Install Outdoor Lighting?
Some individuals call us asking if hiring an electrician to install outdoor lighting is necessary.  While we usually advise against messing with live electrical wires, there are some work arounds if you prefer to DIY the project yourself.  You can go to your local Home Depot, Menards, or Lowes and find solar lights.  Most of these lights simply require you to just find the sport you want them at and stick them in the ground.  This will require no work on your part for electrical.
However, most people that are looking for that bright and vibrant professional landscape appeal are better suited customers for a professional electrician.  Not only will it save you time by doing it yourself, you will protect yourself from making dangerous electrical mistakes.  Lights that are professionally installed and hooked into your electrical system will always have a brighter light than solar lights.
Do Landscape Lights Use A Lot of Electricity?
The most common question we get is customers wondering if landscape lights use a lot of electricity.  As we all know, the more electricity usage, the higher you pay every month.  While adding beautiful landscape lighting does make a difference in your electricity bill, it's such a small amount of difference that you will barely notice it.  For the average landscape lighting installation, you can expect to pay an average of $2 – $3 more per month in your electricity bill.  Considering the benefits of adding value to your landscape and the safety extra lights bring, it's definitely worth your money.
Should I Install Landscape Lighting?
Now that you know it's important to hire an electrician to install your landscape lighting, and you know the cost of the lighting is minimal, it's up to you to decide if you want to take on this project.  In the past 20 years of installing landscape lighting, we've never had a customer say it was something they regret doing.  Between the aesthetics, safety, and value it brings your landscape, we consider it a no-brainer if it's something that has crossed your mind!
Are you ready to install landscape lighting at your home?  Give AC Electric a call now to schedule your assessment!