House Rewiring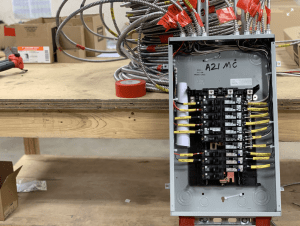 Are you searching for a professional and insured local electrician for a complete house rewiring?  AC Electric would like to welcome you to our family of thousands who have used our services across Northeast Ohio since 1999!
We understand the massive burden it can be both financially and installation time that a whole house rewiring can be on your household.  Our goal at AC Electric is to ease your mind when taking on this large project.  Once of the most important things involved with your house rewiring is finding a high quality electrician with a stellar reputation.  One of the most dangerous aspects of any homes structure is the electrical system due to electricities ability to cause a fire if it's not done properly.
To ease your mind, we kindly ask that you review our 180+ Google Reviews and Better Business Profile that shows our A+ Rating!  Our number one priority is customer satisfaction and customer safety.  We strive to achieve both on every job you allow us to complete.
How Disruptive is Rewiring a House?
We want to let you in on a little secret we have at AC Electric.  We have a group chat with all of our certified technicians.  In our group chat we enjoy showing off our work that each of us completes.  One of the top things we brag amongst each other is our ability to rewire a home without having to tear up walls and floors which will lead to more of an expensive bill for you when we are done!
While rewiring a house can be very disruptive, we aim to do the job in the cleanest and cheapest possible way for you.  What we mean by cheap is our goal of not tearing into your current flooring, cabinets, tile, etc.  The easy way out for us is to make straight paths and that would require tearing up floors and walls.  If necessary, we will need to open a wall or floor, but our goal is to minimize this as much as possible.
For an estimate on your home or business rewiring, give us a call and we can provide an estimate for you!
Is It Worth Rewiring a House?
Rewiring a home is absolutely worth doing if needed.  Think of it this way, is it worth your safety and the safety of everyone else in your household to have a safe electrical system?  America averages over 51,000 electrical fires each year.  Some of which have resulted in death.  If you need a rewiring completed, we recommend finding a way to get it done.  Even if it requires a loan, it is worth every penny.
Another great reason to get a new rewiring completed is to have a more efficient electrical system.  The better it is with modern technology, the lower your monthly electrical bill can be!
When Should You Rewire a House?
If your home is more than 50 years old and it still has its original wiring, then we recommend a whole home rewiring.  Typically, in Northeast Ohio we find knob and tube wiring in older homes.  While you can still operate a home with knob and tube wiring, it is recommended that you change your homes wiring to modern wiring.  More times than not, one of the sure fire ways to know if you need a home rewiring is if you have knob and tube wiring.
If you are interested in receiving a quote for your house rewiring job, give AC Electric a call today!