240V Outlet Installation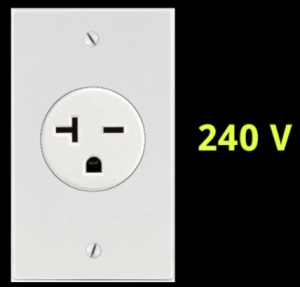 Are you looking for a local electrician that provides 240V outlet installation services?  Look no further than AC Electric!  AC Electric is A+ Rated by the BBB and we have over 180 Google reviews with an average of 4.7 stars!  We've been installing every outlet available since we began our reputable business in 1999.
Most of our jobs have us installing the standard 120V outlet. 120-volt outlets are in every room of your home.  These outlets are typically reserved for lamps, charging stations for electronics, computers, and other common household items.  Typically, all you need is 120 volts to safely operate this type of equipment.  However, for the larger household items, there needs to be a higher voltage outlet.
What is a 240-volt outlet?
240-volt outlets are required for larger household appliances.  Below are some of the common items that require a 240-volt outlet.
Water heater
Large kitchen appliances like an oven or microwave
Jacuzzis
Central air conditioner
Clothes dryer
If you are looking to add a 240-volt outlet to your home, make sure to call AC Electric today to schedule your installation!