History
AC Electric was created out of a vision to give customers something while we enjoyed doing it. Our history begins in 1999 when I wrote my first invoice, the satisfaction experienced in giving that customer the product they wanted at a reasonable cost set motion to the start of a company. Elaine and John were two of the nicest people I've ever met—God rest their souls.
Originally, the idea was to start a general contracting company and repairing and/or installing whatever a home required. After reading many books from do-it-yourself projects to home remodeling, my favorite trade was electrical. I decided to pursue the electrical field and registered with Polaris University under the Adult's Training Course. The electrical professor, Doug Lehota, was an extremely knowledgeable instructor who broke things down to the most minute detail.
My studies never stopped after Polaris; it only paved the path to more questions and training. Apart from putting my electrical training experience in the field under residential, commercial, industrial and institutional applications, I continued to further my education by learning other subjects such as computer aided drafting (CAD), lighting load calculations and efficacy, heating, air conditioning, and ventilation principals (HVAC) and plumbing. Understanding the mechanics of a building's infrastructure has allowed me to understand how certain theories coincide with each other.
When business was slow, I worked for a trades placement company, which included excellent wages and benefits. I can honestly say that when working for someone, money was in abundance; unfortunately, this was not my motivation. Customer satisfaction was my primary influence, and once again I quit my job to work for less money. I can remember it like it was yesterday—2 months working for a company I was once again debt free ( I only owed my supplier). I told my oldest daughter "anything you want—I have money!" A few days later a customer called me about a problem during normal working hours, and I couldn't say no. I gave my 2 week notice, and was back to struggling as a business owner!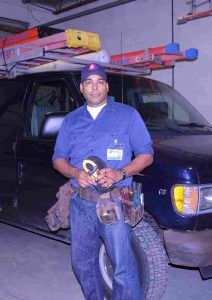 In 2010, I quit this time on being naive! In order to provide the satisfaction to my customers, I was going to have to simultaneously provide a positive cash flow and a steady paycheck! I attended many business courses and seminars; reached out to SCORE (branch of the SBA) for guidance; read many books on the subject; attended countless webinars; and, even hired coaches for better business administration. This education is a must for anyone staring a business—maybe even before you even think about what trade to get into!
From a bucket filled with second hand tools running a business out of a one bedroom apartment to an office in Richfield, 3 fully stocked vans, a bucket truck, 17 years of stumbling, and over 1100 of the best customer's served in NE Ohio, AC Electric is still around! I wake up at 4:15am every morning without an alarm because the motivation of serving you has always been my pleasure!
My education has not stopped; in fact my curiosity has grown exponentially. I train my employees as much as they will allow me to in order for "me" to provide you with the best customer experience you should expect from a contractor! Special thanks to the following customers I've adopted like family; you guys have made my efforts worth it!
101 Mobility of Cleveland
4415 Euclid, LLC
Adam Bram
Adam Brown
Adrian Movrin
Ahmad Amin
Alan Solnick
Alarm Core, LLC
Albert Miller
Alex Vickers
Allan Maurer
Allen Dallacheisa
Allison Welch
Ally Auto-Works
Amanda Lamb
American Eagle Coin
Amy Ciano
Amy Reinhart
Andrea Speelman
Andrew Almenar
Andrew Evatt
Andrew Harsh
Anirys Hunt
Anisha Miller
Anne Whitaker
Anthony Konyha
Anthony Perez
Anthony Tatarczuk
Antoine Henderson
ArcelorMittal USA
Arlemy Adames
Automation For Work
Baljendra Kappor
Barbara Fuller
Barbara Higgins
Barbara Hobbs
Be Next Awning
Becky Shultz
Bernice Silverstein
Beth Salem
Bilal Abdul-ManiAllstate Insurance
Bill Beverly
Bill Dean
Bill Mason Agency
Blaine Brinton
Bob Rose
Bob Solich
Bonnetta Dudley
Bonnie Gordon
Boston Market
Bradley M Gadd
Brandon & Elizabeth Nowac
Brandon Bianco
Brent Eaton
Brian Charkosky
Brian Jaros
Brian Kraft
Brian Walls
Brittney Fells
Brooke Gurland
Canal Ceneter Properties
Carlos Reyes
Carmencita Hardin
Carnell Mitchell
Carol Boyd
Carolin Harig
Charles Grell
Charles Johnson
Charles Willimas
Charlotte Kimble
Cheryl Cartmille
Cheryl Illner
Chester Glenn
Chris Ford
Chris Hanke
Chris Michelmann
Chris Przybysz
Chris& Rita Stahl
Christine Ivery
Christine Weiss
Chrystal Nicholson
Church of Christ @ the Blvd
Cindy Nace
Cindy Santiago
City of ClevelandCleveland Culinary Launch
Clarence Belle
CMHA
CNEC Companies, LLC
Cock Tale Lounge
Colleen Sutton
Com-Corp Industries
Condo Realty
Constance Arthur
Coryea Residence
Costanzo Cardinal
D&C Developers
Dan Galita
Danesh Mangal
Daniel & Sandra Sexton
Daniel Henry
Danyell Steward
Darrell Gunter
Dave Brown
David Aymat
David Bernatowicz
David Carney
David Dixon
David Stevens
Deloris Prestamo
Denise Edwards
Denise Patterson
Dennis Wrabel
Detroit Shoreway
Diane Bray
Diane Owens
Diane W. 😉
Dirul Nassar
Diya Alaedeen
Donald Johnson
Dorcas Mangira
Dorothy & Tom Salem
Douglas Wilson
Duane Smith
Edith Rondon
Edward Francis
El Rio Grande
El Rodeo
Elaine Duckworth
Elite Mobility
Elizabeth Gabella
Elois Hunter
Emma Crespo
Emma Moore
Emmett Equipment Company
Eric Jacobson
Eric Sedelmeyer
Erich Andrews
Essig Management
Ethen Spiegelberg
Eugene Young
Evelyn English
Express Service & Maintenance, LLC
Firestone
First United Methodist Church
Flor Panta
Francis Quiniones
Francisco Aquino
Franz Rehfald
Gary Miller
Gary Moyse
Gary Watkins
Gemma Smith
Geneva Chapman
George Ramos
George Rodriguez
Gerald Dixon
Gina Telman
Gloria Strickland
Greg Vicarro
Gregg Deering
Gregg Radke
Gwendolyn Davis
Harold Jones
Hazel Bavishi
Helen Hubbard
Henry & Yolanda Rodriguez
Henry Luu
Hillary Sample
Hills Home Improvement
Horace Johnson
Hustler Club
ID Interiors
Ingrid Reichert
Instiglass
Integrity Printing
Issa Salti
Jacqueline Shultz
James Batcha
James Cunselman
James Hardiman
James Lamvermeyer
James Mezatasta
James Rodems
James Smith
James Vandeweerd
James Zabielski
Jan Satterwaite
Jane Benovich
Janice Dort
Jawed Hasan
Jay Gentry
Jeanne Schillig
Jeff Bonnell
Jeff Dan
Jeff Hummel
Jeff King
Jeff McCurrah
Jeff Rossman
Jeff Sacco
Jeffrey & Erin Hartig
Jeffrey Detwiler
Jeffrey Junge
Jeffrey Rauscher
Jenine Neitzel
Jennifer Boyette
Jennifer Cimino
Jennifer Frame
Jennifer Hyre
Jennifer Krejsa
Jennifer Quellos
Jennifer Steinfurth
Jeri Grand
Jesse Yanoff
Jim Boone
Jim Kontoveros
Jim Wolen
Jimmy Johns
Joanna Lopez
Joanne Bryan
Joanne Hernandez
Joe Carrick
Joe Jones
Joe Palian
Joe Warner
John Bakos
John Colwell
John Gasper
John Gohl
John Mack
John McNamara
John Messina
John Parente
John Sweo
John Umek
John Vellucci
Johnetta Rasheed
Jonathan & Laura Streit
Jonathan Bartell
Jorel & Jennifer Buffa
Joseph Sekera
Josh Rosian
Juan Fuentes
Juan Oyola
Julia De Burgos
Julie Gibson
Julie Haydu
Justin Boothroyd
Kathy Applegate
Kathy Petras
Katie Judson
Katie Polasek
KBR Commercial
KDK Auto Brokers
Keith Schwartz
Kelly Auto Group
Kelvie Tyus
Kenneth Frisco
Kent Whitley
Kenworth of Richfield
Kevin Cash
Kevin Spencer
Kimberly Berry
Knights Inn
Kondaur Capital Corp.
Kristopher Sayre
Kunde Insurance
Kwick-N-Clean
Kyle Hartung
LaChae Cosmetics
Lake Erie Creamery
Lakewood Detroit Investors
Latisha Riggins
Laura Powell
Linda Balcer
Linda Constantine
Linda Jackson
Lisa Bradford
Lisa Heathfield
Lisa Sabovich
Lisa Torres
Litel Robinson
Lone Rover Construction
Lucas Contracting
Machine Industries
Madonna Morris
Magaret Joyce
Magic City Creations
Magic Coin Laundry
Mallard Construction, Inc
Margaret Erven
Maria Samame
Marian Mackey
Marian Tapu
Mark Marshall
Mark Mattern
Mark McGraw
Mark Turner
Mary Ellen Larkin
Mary Ellen Larkin
Mary Parker
Matt Evenhouse
Maura Dooley
McDonald's Restaurants
Meagan Ramos
Mehrdad Ramezanali
Melva Henderson
Melvin Rox
Melvin Weinberg
Michael Alexander
Michael Fox
Michael Mahoney
Michael Santucci
Michael Swogger
Michelle Edwards
Mick Lalich
Mike Cehelnik
Mike Cratko
Mike Glass
Mike Lynch
Mike Montgomery
Mike Puleo
Mike Tahan
Mildred Sweeney
Milo Heger
Milosh Milenkovich
Minerva Prime
Minh T Nguyen
Mitra Roy
Mitsy Wilson
Mohammad Farid
Monica Shel
Multitech Commercial
Nada Johnson
Nail Boutique
Nam Bui
Nathaniel Whitlow
Neighborhood Progress, Inc.
NEMF
Nicholas Beastrom
Nichole Johnson
Novaflux Technologies
NRP Group
One Time Construction
Pamela Celenski
Parania Jakyma
Pat Harrington
Patrick Collier
Patrick Halsey
Paul Huth
Paul Pasicznyk
Paul Robinson
PC Surveillance
PC Surveillance
Pearl Scruggs
Pedro Caraballo
Pedro Davila
Peridot Property Management
Peter & Jennifer Analore
Peter Suhodolsky
Phil Nemeckay
Phyllis Hambra
Phyllis Zappi
Pierre Williams
Pinnacle Commercial Development, Inc.
Podojil Builders, Inc.
Premium Auto Wholesale
Prime Communications
Pro-Line Construction, Inc.
Qiong LI
Rafael Paulino
Rafaela Tejeda
Rahsurah Tinsley
Rama Iyer
Ramada Plaza
Raul Huertas
Ray Hanna
Ray Harris
Red Lobster
Reggie Howard
Regina Weber
Reginald McCullars
Rice's Landscaping and Snow Removal, Inc.
Rich Radachi
Rich Zohranski
Richard Galgoczy
Richard Goetter
Richard Skidmore
Rick Haught
Rick Manaloff
Riley Gladney
Robert & Claudine Kirschner
Robert King
Robert Lazor
Robert Levy
Robert Miller
Robert Pack
Robert Ruffing
Robinson Reyes
Romeo Mihalcea
Ronald Kolodziej
Ronald Singletary
Ronald Tamunday
Ronn Potter
Rose Monschein
Ross Ahern
Ruby Emanuel
Russell O'Rourke
Ryan Chittester
Saia LTL Freight
Sam Antoun
Sam Vozar
Sandy Curtis
Scott Bollinger
Sean Kubovcik
Sean McDonnell
Sears Home Service
Secundino Rivera
Service Master Restore
SFV Services
Shaker Square Towers
Sharon Copeland
Sheiban Jewelers
Sheryl Hatfield
Sheryll Sullivan
Shiloh Painting
Shirley Hartze
Shirley Smith
Soc Colovas
Sonia Shah
Space Real Estate, Inc.
Stacey Elkins
Steve & Anna Gibas
Steve Behringer
Steve Gage
Steve Gartman
Steven Barreto
Sunil Bhardwaj
Sunshine Limited Partnership
Susan Finelli
Susan Rouser
Suzanne Arroyo
Suzanne Dunn
Sweep and Glow Cleaning Services
Syed Ali
Sylvia Gossett
Tacy & Anthony Peebles
Tallmadge Motel
Tamie Branham
Tandy Sloan
Tejpal Gill
Terry Vincent
TGS Properties
The Denali Company, LLC
The Flying Fig
The Robinson Group
Thelma Thorne
Thomas Settle
Tim Del Papa
Timothy Pace
Tom Sanbourn
Tom Stull
Tom Sutcliffe
Tom Trotto
Tony Dupilka
Travis Pitts
Tyson Bodager
Victor Nadozirny
Victor Thomas
Victor Valencheck
Vincent Georgetti
Walid Dardir
Wallo, Magaret
Wasim Khan
Wayman Frazier
West Cleveland Properties
Will Arroyo
Will Baylis
Willa Betts
William & Heather Bonnett
William King
William Willis
Willie Taylor
Wilson Perez
Winfield, Moriah
Woodrow Chandler
Word of Riteousness
Yolanda Robinson
Youlande Mansour
Yousef Sayed
Zareen Hasan