Electrician in Hudson Ohio – AC Electric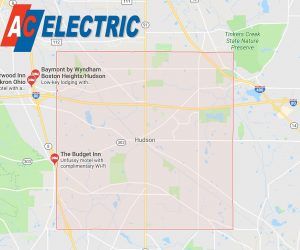 Let's face it, electricity is considered an important element of your everyday life because it helps to power the lights, fans, television, computers, home security system, refrigerators, washing machine, air conditioners, heaters and other important appliances. Any problem with the electric wiring and electric system can cause a lot of inconvenience for the homeowners, offices and businesses! This is the reason why you will need to hire an experienced and skilled electrician in Hudson Ohio who will help in repairing the issues as quickly as possible. AC Electric offers services to ensure that your electric supply will be consistent and any issues with the electric appliance will be repaired at the earliest.
There are many reasons why you should hire an electrician in Hudson Ohio, but the most important reason is
that an electrician is skilled and competent enough in handling every kind of issues relating to electricity without causing any risks or harm to the property as well as the property owners. As the electrical professional is trained well to perform electrical installation and appliances repairs, you can be rest assured that there will not be any incident of fire or accidents caused due to fire. Another reason to hire an electrical contractor such as AC Electric is due to all of our electricians being professionals who specialize in dealing with equipment and appliances in an efficient manner.
Our electricians also have knowledge of the different electrical components, wiring of circuits, electrical installation, sockets installation while working according to the building regulations and laws governing the electrical system. When you hire a qualified electrical contractor like AC Electric, you can rest assured that you will get the highest quality service for electrical wiring on your property!  Just ask some of our many satisfied customers!
There are many benefits of hiring AC Electric's certified electricians in Hudson Ohio, but the most important benefit is that you will get quick and friendly service while solving your electrical problems in an efficient time!  Let's face it, we all hate waiting for service companies giant time windows.  We do our best to honest short time periods because its you that matter the most!
If you are in immediate need of one of our great electrician services please call right away!  330-659-0700 is the location nearest to your location.  Just be sure you are ready for a quick turnaround!  We are anticipating your calls Hudson Ohio!
Contact us here or call the number on this page.