Electric Service Panel
Your Electric service panel is like the heart beat of the house.  As electricity has become a necessary part of human life. As human blood flows through the veins and the blood flow is controlled by the human heart, alternating current flows through the AC cables and is controlled by a control plate. This electric control panel is responsible for the availability of electricity in different parts of their homes, businesses, commercial buildings, etc. The electrical panel is the master of where electricity is supplied to the circuits. The better this electrical panel works, the more comfortable you will feel regarding AC power for each part of your home or commercial building.
This panel continues to work 24 hours a day and, after working for a long time, may experience operational problems. As a result, it may not perform it's operational tasks as well as it did before. In addition to working for a long time, many other reasons play an important role in the operation of the electric control panel such as wiring around the home.  You need to ask your local electrician if they can evaluate your current electrical set-up.  This evaluation plays an important role as you may be fine or may need to replace old wiring such as knob and tube wiring.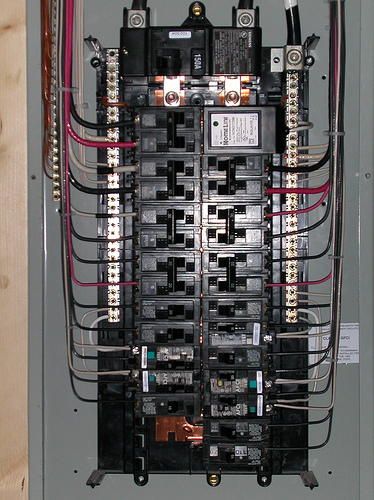 Once you have narrowed down the issue, or even potential issue to the service panel, this is when you need a professional electrician to evaluate and correct your electric service panel. If you have a little knowledge of the AC circuit, you can eliminate some minor problems yourself. But we really don't recommend messing with dangerous electricity.  If you are in the Akron or Cleveland area, you should call an expert such as AC Electric who is certified and has many years of experience to handle these issues. We are the experts who know exactly where the problem is and how to solve it.
Do I Need My Electric Service Panel Upgraded?
It's difficult to determine if you need an upgrade if you're not an expert.  Sometimes it can be obvious if you are in need of an upgrade.  One cause of damage to the electrical panel is the electrical load. Occasionally, the energy load of the commercial building house increases, which causes the power panel to supply more energy than its capacity. There are many other reasons why an electrical panel may malfunction. Panel updating experts can only overcome These things. So do not hesitate to call an expert.
As there are many companies in the Akron and Cleveland area that are available on the web that offer a variety of services, we recommend having our certified electricians at AC Electric. We offer friendly, fast and prompt services.  We deal with service panel upgrades daily and will have your home in tip-top shape in no time with our clean electric upgrades!
Contact us now!